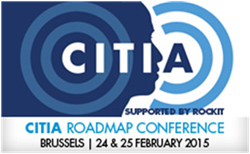 ROCKIT develops a research and innovation agenda including a strategic roadmap in the area of natural conversational interaction.
Brussels, Belgium (PRWEB UK) 19 February 2015
The partners of the ROCKIT project - funded by the FP7 programme of the European Commission – announce the 1st CITIA Roadmap Conference is to be held February 24-25, 2015 in Brussels, Belgium.
The CITIA Roadmap Conference foresees a 2-days programme event with an impressive line-up of speakers and panellists. Relevant speakers will be, among others, Steve Young from the University of Cambridge, who will introduce to the audience his vision for Conversational Interaction Technologies, Sebastian Moeller from Telekom Innovation Laboratories, who will focus on how to break the barriers between research and innovation, and Rebecca Jonsson from Artificial Solutions, who will show how to build a market and fostering a culture for Conversational Interaction Technologies.
At the conference it will be announced the first version of the ROCKIT strategic roadmap, which will drive many of the sessions of the upcoming conference and used to set the priorities of CITIA.
The main goal of the roadmap is to engage public or private research organisations, including SMEs, into a constructive discussion towards a full exploitation of new conversational interaction technologies. The roadmap should enable our community to compare prominent use cases, products and services, science and engineering capabilities, as well as readiness, needs and time frames for future R&D. Entrepreneurs and researchers can use it to focus their R&D, partnerships and related strategic efforts.
This first version of the roadmap is the result of an on-going (2-year) consultative process, which in its first year alone involved over 100 experts who provided their input during five physical workshops organised in conjunction with major sector events. For the science/technology areas alone, some 1,000 inputs were captured during these workshops. All of those inputs were clustered, filtered and linked together across several layers, including:

10 societal Drivers & Constraints
5 generic R&D Scenarios
10 Product/Service Types, with the added value, a SWOT analysis and a 10 year timeline for each of them.
8 Science/Technology Areas, with cluster and 10 year timelines for each of them.
7 Resource Types
The graphical version as well as a presentation of the first version of the roadmap is easily accessible via http://tinyurl.com/ROCKIT-v1
Registration to CITIA Roadmap Conference
Registration to the conference is free of charge. For further information and registration, visit http://www.e-unlimited.com/CITIARoadmapConference or contact Annalisa Gardella at +32 2 643 3691 or at annalisa(at)e-unlimited(dot)com
About ROCKIT
ROCKIT is a strategic roadmapping project for research and innovation in the area of natural conversational interaction. The primary scientific focus concerns interactive agents which are proactive, multimodal, social, and autonomous. A second focus concerns systems which can extract and exploit rich context and knowledge from heterogeneous data sources.
The main goal of ROCKIT is the development of a Research and Innovation Roadmap which integrates the vision and innovation agendas of those organisations (concerned with R&D and exploitation) in the field across Europe, with a broad coverage across sectors. A key goal is to bring together public sector research organisations with commercial organisations at all scales, with a particular focus on SMEs that represent the majority of fragmented commercial activity in Europe.
About CITIA
The Conversational Interaction Technology Innovation Alliance (CITIA) aims to accelerate research and innovation in the area of technologies for natural conversational interaction. CITIA is concerned with the development of proactive, multimodal, social, and autonomous agents which enable rich, conversational interactions between people and between people and machines. CITIA brings together stakeholders in research and innovation, with a particular focus on SMEs.