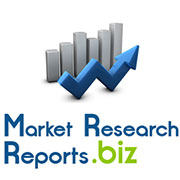 Growing Demand for Accuracy to Drive the Pharmacy Automation Market
Albany, NY (PRWEB) February 19, 2015
According to the report, the global pharmacy automation market will grow at a compound annual growth rate of 7.0% during the forecast period of 2014-2019.
View Full Report at http://www.marketresearchreports.biz/analysis/243901
Consumer Demand for Accuracy and Safety in Pharmacy Environment
The pharmacy automation market dates back to the 1970s. However, with the introduction of pill counting machines, this market has continued to advance and deliver noteworthy technology as well as enhanced efficiency. The increasing demand for accuracy will fuel the growth of the global pharmacy automation market in the near future. Consumers today demand pharmacy automation with minimized medication errors. This will lead to a greater adoption of automation within pharmacies. Furthermore, increasing consumer demand for safety and industry standards in the pharmacy industry will contribute to the growth of the pharmacy automation market. Competency in the pharmacy industry required by regulatory authorities, healthcare professionals, consumers, and manufacturers is also estimated to fuel the pharmacy automation market.
Download Detail Report With Complete TOC at http://www.marketresearchreports.biz/sample/sample/243901
Untapped Opportunities outside the United States
The aforesaid key drivers and opportunities in various settings will continue to emerge from small pharmacies to large hospitals and mail-order service facilities. The APAC and EMEA regions specially provide untapped opportunities for existing market players and new entrants. Increasing awareness among pharmacists around the world, especially in untapped markets, regarding the efficiency of pharmacy automation will drive the industry. Currently, the rapid decentralization of pharmacies is a key trend influencing the market, which will increase the demand for automation tools in pharmacies.
High Implementation Cost to Inhibit the Market
The global pharmacy automation market will be inhibited by two major market trends. The high cost associated with the implementation of pharmacy automation tools is expected to suppress the pharmacy automation market. In addition, stringent regulatory procedures from governments will result in delay of product launches, which in turn will hamper the global pharmacy automation market. Another challenge the market faces is intense competition among vendors.
Explore All Published Reports by the Same Publisher at http://www.marketresearchreports.biz/publisher/73
Intensely Competitive Market Scenario
The global pharmacy automation market is highly fragmented in nature with many established and small-scale companies competing for market shares. Product-wise, the market is divided into two main categories: inpatient and outpatient pharmacy automation. Inpatient pharmacy automation is further divided into acute-care settings and long-term care settings. On the other hand, outpatient pharmacy automation is segmented into retail pharmacy chains, hospital retail settings, fast-track clinical settings, pharmacy benefit management services, and other mail-order settings. Key vendors in the pharmacy automation market include CareFusion, ScriptPro, McKesson, and Parata Systems. Other vendors in the market include Omnicell, Kirby Lester, Aesynt, MedDispense, Talyst, Rice Lake Weighing Systems, and Yuyama.
About MarketResearchReports.biz
Marketresearchreports.biz (http://www.marketresearchreports.biz) is the most comprehensive collection of market research reports, supporting clients' market intelligence needs with over 100,000 market research reports, company profiles, data books, and regional market profits in its repository. We also offer consulting support for custom market research needs.
Our document database is updated by the hour, which means that our customers always have access to fresh data spanning over 300 industries. From Fortune 500 companies to SMEs, Marketresearchreports.biz has built a veritable reputation for fulfilling the most exacting market research needs.
Contact:
State Tower
90 State Street,
Suite 700, Albany
NY 12207, United States
Toll Free: 866-997-4948
Email: sales(at)marketresearchreports(dot)biz
Browse Blog at https://businessmonitorinternational.wordpress.com/