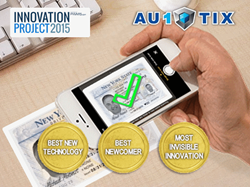 AU10TIX is only triple finalist of this year's payment industry "grand prize", PYMNTS Innovation Project Innovator Awards!
Nicisia, Cyprus (PRWEB) February 20, 2015
AU10TIX BOS, the leading technology today for online customer ID authentication and fast-track onboarding has already been honored as "most numerous finalist" of this year. AU10TIX BOS is standing side by side with brand leaders such Apple (Pay), Visa (Checkout), Klarna, Citi (Retail Services), MasterCard, American Express (Serve) and Payoneer. AU10TIX's nominations are based on public voting and panels of industry experts.
The PYMNTS Innovator Awards are viewed as the most prestigious recognition in the payments industry and boast a submission, selection and voting process that is unmatched in intellectual rigor and competitive energy. With more than 600 submissions, a panel of judges made up of executives from across the payments spectrum that viewed and deliberated on the submissions and narrowed them down to 5 finalists that will compete for 16 prestigious awards in categories like Most Innovative, Most Disruptive and Best New Technology.
The judges panel included:

Jane Estep, NACHA President and CEO
Matt Harris, Co-Founder and Managing General Partner at Bain Capital Ventures
Matt Witheiler, General Partner at Flybridge Capital Partners
Aaron Goldman, General Atlantic Principal
Hans Morris, NYCA Partners Managing Partner and former Visa President
Dan Rosen, Founder and Partner at Commerce Ventures
Paul Purcell, Continental Advisors Partner
Karen Webster, PYMNTS.com CEO
Voting is open now through February 25th on PYMNTS.com with the winners being announced during a live ceremony at The Innovation Project 2015, powered by PYMNTS.com.
"The best types of recognition are new clients and industry awards", says Ron Atzmon, Managing Director of AU10TIX: "We're so delighted to have both. We have earned recognition not because we make customer onboarding enable securer and faster, but because we have changed the way identity authentication and onboarding are done. AU10TIX BOS, our online platform is no an evolution but a revolution. We departed from conventional template matching, semi-automated technology that has been migrated from front-end environments to an online specialized technology paradigm. But the BOS technology is more than just doing it better and faster, it is about changing ineffective practices and introducing far more efficient "traffic light" system for customer authentication and onboarding."
"Being a 'Payments Oscar' multiple finalists is an achievement in itself", says Ofer Friedman, VP Marketing of AU10TIX: "We've already heard our technology paradigm described as 'exciting' and 'different'. To us, an approach that account for the inherent differences between online and front-end seemed only natural. We are the multi-channel ID authentication and Onboarding Company. Simply try a conventional solution and you'll see its limitations immediately. With its machine-learning enhanced image processing, 3-way authentication and fast-reaction traffic light system A10TIX BOS is the new market standard"
About AU10TIX
AU10TIX Limited, a fully owned subsidiary of ICTS International N.V, deals with the authentication and digitization of identifying documents including Passports, identity cards, driving licenses and other complementary identifying documents. The company specializes in implementing hardware & software based applications used for scanning, identifying, content retrieval, authentication and validation of identifying documents. AU10TIX is a pioneer of all-channel (front-end and online) ID authentication and processing solutions. The company's products drastically reduce identifying document-based fraud, reducing the costs associated with client processing and enabling effective regulatory compliance, while making the sales and support operations speedier and considerably more efficient.
For more information, visit http://www.au10tix.com
About ICTS International N.V.
ICTS specializes in the development and implementation of innovative security concepts and solutions designed to meet the needs of a variety of industries, mainly aviation transportation, border control and sensitive facilities. ICTS International benefits from over two decades of expertise and international operational experience in transportation security, with a particular emphasis on high-risk environments, passenger processing transactions and the integration of security services to provide a comprehensive security solution. It also offers a wide variety of customized training programs, tailored procedures and a wide range of security consulting services. The company has developed and implemented unique technological solutions, based on its comprehensive approach to security, designed to enhance the level of security while accelerating the security check process.
For more information, visit http://www.icts-int.com
This press release contains "forward-looking statements" within the meaning of the Private Securities Litigation Reform Act of 1995, regarding the Company's business strategy and future plans of operations. Forward-looking statements involve known and unknown risks and uncertainties, both general and specific to the matters discussed in this press release. These and other important factors, including those mentioned in various Securities and Exchange Commission filings made periodically by the Company, may cause the Company's actual results and performance to differ materially from the future results and performance expressed in or implied by such forward-looking statements. The forward-looking statements contained in this press release speak only as of the date hereof and the Company expressly disclaims any obligation to provide public updates, revisions or amendments to any forward-looking statements made herein to reflect changes in the Company's expectations or future events.
Contact:
AU10TIX
Ofer Friedman, VP Marketing
Email: ofer.friedman(at)au10tix.com
Tel.: +357 (22) 007698
ICTS International NV
Alon Raich
Email: mail(at)ictsinternational.com
Tel.: +31-20-716 3421