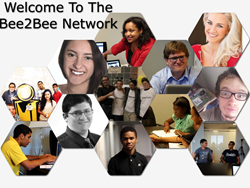 The best gift for a young professional today is a job but not just any job, rather an opportunity to learn, grow and create a prosperous future. -- Yasmine P. Clarke, Founder of the Bee2Bee Network
Palm Beach Gardens (PRWEB) February 20, 2015
The Bee2Bee Network will be launching the 1st Annual Taylor Private Fitness Challenge which will be held on Saturday, February 21, 2015, from 9:00 a.m - 1:00 p.m. at Downtown Park, Downtown at the Gardens in Palm Beach Gardens. This event gives local businesses the opportunity to also give back to the community while promoting their services.
Taylor Private Fitness, in partnership with Golfsmith, will be giving away over $7,000.00 in cash and prizes to participants of the fitness challenge. Participants will also be able to test drive the new CALLAWAY XR golf clubs by Golfsmith at two special nets in the park. Fitness activities include soccer drills and an obstacle course by Look Who's Fit, Pilates by Tanya Pilates, and Kung Fu demonstrations by Kung Fu USA. Other sponsors and participants of this event include Whole Foods, Keola Footware, Mercedes Benz of Palm Beach, and Dirty Martini.
Lars Taylor Rascovich, owner of Taylor Private Fitness states, "I am very impressed with the results which are a part of the dedication and professionalism of the Bee2Bee Network. Thanks to the Bee2Bee Network, my website has earned us many new clients and their social media marketing campaign paired with the Google Virtual Tour has increased my company's sales by over 40%. The Bee2Bee Network provides a win-win for any business."
Yasmine Clarke, a 20-year software industry veteran, and former software engineer and corporate trainer, is the founder of this exciting initiative. In 2011, Ms. Clarke left her comfortable six-figure salary with an international consulting firm and used her own funds to launch the Network because she is determined to make a difference in the lives of young professionals. According to Ms. Clarke, "The longer a young professional waits to develop and/or utilize his or her skills, before or after graduation, the less marketable he or she will be to the industry. In the technology industry, this lag time can be exponentially detrimental to a young professionals' future prospects."
The Bee2Bee Network has the first Digital Agency Internship Program in the country. Their mission is to challenges its students with projects that reflect the most in-demand skills and cutting edge technologies in the marketplace. Their interns can build a compelling resume and impressive project portfolio by working directly with industry experts to solve real-world problems using the latest technologies and hands-on experience in the field.
Concurrently, the Bee2Bee Network provides the technology industry with a steady supply of trained young professionals possessing the skills and knowledge to succeed in any sector. Ms. Clarke explains, "We are building talent that is made in America. There are many employment opportunities that require technical skills but that often are not filled, or outsourced to other countries, because of the perception that the US lacks qualified individuals."
In point of fact, the Network offers sophisticated solutions to technology challenges faced by small businesses, including the Google Virtual Tour, and marketing tools provided by vendor partners such as Constant Contact and Google AdWords. Local businesses can now affordably market their businesses online 24/7 thanks to the Bee2Bee Network's new software solutions.
However, the Network also depends on collaboration with the business community. In the words of Ms. Clarke, "Small businesses are the backbone of our economy and are directly linked to creating strong, economically sustainable communities. Our program continues to emphasize the importance of these businesses for community development as well for the professional development of our youth but we need help from business owners like Taylor Private Fitness to make this possible."
Small businesses, in particular, can be well served by the Network. At the Bee2Bee Network, an intern is provided with the technology and the training to take a position in the technology industry - from software designer to coder.
A major goal for all Bee2Bee Network interns is to launch their own entrepreneurial start-ups with the hands-on knowledge gained during their year-round mentorship program.
According to Ms. Clarke, "We are investing in the future by 'doing good, which is good business.'"
Small businesses and new organizations in need of a Google Virtual Tour, website development, or social media marketing should call 855-233-2331 for further information. Companies, foundations and individuals who might have an interest in sponsoring an intern should also contact Ms. Clarke at 855-233-2331.
Headquartered in Orlando Florida, The Bee2Bee Network offers a compelling alternative to vocational education. From basic software engineering to industry certification, Bee2Bee Network teaches a broad range of skill-set based classes to prepare America's youth for the 21st Century job market. For more information, visit http://www.Bee2BeeNetwork.Org.
Contact Information:
Yasmine P. Clarke, Founder & CEO, CSM, CSP
AGILE BEES, LLC. - Bee2Bee Network
"Doing good is good business!"
6996 Piazza Grande, Suite 203A
Orlando, Florida 32835
Office: 1-855-BeeBee-1
Office: 1-855-233-2331
http://www.bee2beenetwork.org