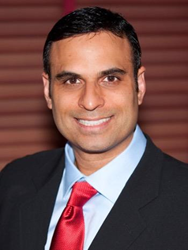 Oakbrook, IL (PRWEB) February 19, 2015
Dr. Amarik Singh, a leading periodontist in Oakbrook, IL is pleased to announce that he will be holding a Dental Implant Seminar for the patients and potential patients, on February 25, 2015 from 6:30-8:00 p.m. at his office, Periodontal Implant Associates. Patients in need of dental implants can receive education about many of the most effective tooth replacement options available today. The doctor will include information about All-on-4™, Teeth-in-a-Day® and implant supported dentures. One attendee will also be selected to receive a credit for a free dental implant.
Dental implants are effective options for patients to regain functionality and aesthetics after they lose one or more of their teeth. The tooth loss may occur as a result of an injury, but most cases are caused by gum disease. This condition may affect as many as 85 percent of Americans. It begins as gingivitis but can progress to periodontitis and cause patients to experience gum recession, deep diseased pockets along the gum line, and loose or lost teeth.
As a periodontist in Oakbrook, IL, Dr. Singh has seen the effects of implants first-hand. Implant supported dentures allow the doctor to give patients a permanent smile with fewer connecting points. The doctor identifies areas that would be able to support the denture and then puts implants in those areas. The implant and the denture are joined to create a permanent bond that can last for years. All-on-4™ is an implant supported denture system that allows Dr. Singh to provide patients with a strong, permanent denture that only requires four implants. Other implant systems, such as Teeth-in-a-day, can be equally effective for individuals with lost teeth.
Dr. Singh is dedicated to providing his patients with the very best dental care possible. As a periodontist in Oakbrook he understands that many people may not know just how much technology has advanced in the periodontal field. To ensure that current and future patients know their options and are fully aware of the benefits of each type of tooth replacement option, he created this seminar. Those who would like to learn more about dental implants and other tooth loss treatments are invited to attend Dr. Singh's seminar. With his help, patients may be able to regain their smiles and their confidence.
About the Practice
Periodontal Implant Associates is a periodontal practice offering personalized dental care for patients in Chicago, IL. After graduating from Northwestern University Dental School, Dr. Amarik Singh went on to obtain his Specialty Certificate in Periodontics and earn his Master's from Northwestern University. Dr. Singh is deeply committed to continuing education and prides himself on remaining on the cutting-edge of the newest techniques and technology in dentistry. Dr. Singh is part of an elite group of dental professionals at the forefront of the Chao Pinhole® Surgical Technique (PST®), a revolutionary new approach to repairing gum recession. To learn more about the periodontal services available at Periodontal Implant Associates, please visit http://www.pidentists.com or call 630-424-9404.