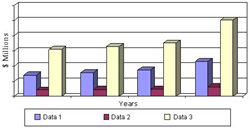 Power Electronics Industry to Reach $16 Billion in 2019
(PRWEB) February 20, 2015
BCC Research (http://www.bccresearch.com) reveals in its new report on power electronics, the global market for power electronics was worth $10.6 billion in 2013 and nearly $11.5 billion in 2014. This is expected to grow at a compound annual growth rate (CAGR) of 6.9% through 2019 resulting in $16 billion approximately in 2019 on a global scale.
Power electronics device evolution commenced with the uncontrolled category, progressed along to semicontrolled and finally reached completely controlled discretes and modules fabrication. As a result, completely controlled discretes and modules offer superior switching and control characteristics; resulting in extremely high-voltage applications.
"The power electronics industry is engaged in identifying technologies and materials that can keep pace with user demand for superior performance at minimum incremental pricing," says BCC Research analyst Kaustubha Parkhi. "With silicon, a material that has dominated power electronics for some time, nearing the limits of its physical abilities to support the further evolution of superior products, stakeholders are looking at alternative materials."
For optimum utilization of power, conversion and conditioning of power is essential. Power electronics help in achieving this objective. Power electronics is a collective term for solid-state devices that convert electric power from one form to another: direct current to alternating current, low frequency to high frequency and transmission voltages to line voltage, to name some examples. The fundamental objectives driving innovation in power electronics are thermal management, form factor efficiency and cost-effective synthesis.
Power Electronics: Technologies and Global Markets forecasts the market size for power electronics discretes and modules consumed by individual applications such as telecommunications, retail, residential and commercial, medicine, defense and surveillance, computing and entertainment, industrial and automotive, and energy. Revenue forecasts are provided for the period 2014 to 2019.
Editors and reporters who wish to speak with the analyst should contact Steven Cumming at steven.cumming(at)bccresearch(dot)com.
About BCC Research
BCC Research publishes market research reports that make organizations worldwide more profitable with intelligence that drives smart business decisions. These reports cover today's major industrial and technology sectors, including emerging markets. For more than 40 years we've helped customers identify new market opportunities with accurate and reliable data and insight, including market sizing, forecasting, industry overviews, and identification of significant trends and key market participants. We partner with analysts who are experts in specific areas of industry and technology, providing unbiased measurements and assessments of global markets. Recently selected as the world's greatest market research company, BCC Research is a unit of Eli Global, LLC. Visit our website at http://www.bccresearch.com. Contact us: (+1) 781-489-7301 (U.S. Eastern Time), or email information(at)bccresearch(dot)com.