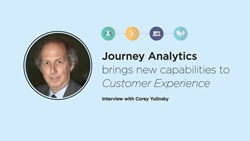 If the traditional approach is akin to using an X-Ray, Journey Analytics is like using an MRI – it's the next level diagnostic tool to identify what's wrong and how it should be treated.
(PRWEB) February 19, 2015
Recently ClickFox sat down with Corey Yulinsky, who built the Information Business (including Analytics Centre) at a global bank, to discuss Customer Experience and specifically how Journey Analytics is impacting this space. Journey analytics is a technology solution aimed at tracking and analyzing the way that customers navigate across all available channels to conduct their business with an organization – whether maintaining current accounts and relationships, or buying new products and services. The ultimate goal is stitching together the disparate interactions customers have into the more comprehensive Omni-channel Journey – hence the name. This solution is increasingly used to tackle high-leverage problems – digital migration, improving customer satisfaction / NPS, or improving a critical set of journeys end to end – as well as managing and monitoring customer journeys over time.
Customer Experience is a phrase that means many different things to many different audiences, and that's part of the challenge according to Yulinsky. A LinkedIn survey of CRM & CEM professionals yielded definitions such as – 'Everything an organization does to profitably win, satisfy and retain customers better than the competition' or 'how the customer is left feeling about your organization during those all important moments of truth when your reputation is on the line.' While these descriptions are undoubtedly aspirational, they are also somewhat broad and lack specificity.
This underscores the opportunity for Journey Analytics according to Corey. "This is a new way and a much more rigorous way of architecting and measuring customer experience. Everyone is transfixed by measuring NPS scores, and while there's obviously nothing wrong with that (and this approach highlights how to improve that metric), I believe this capability can create a lot more value than that. If the traditional approach is akin to using an X-Ray, Journey Analytics is like using an MRI – it's the next level diagnostic tool to identify what's wrong and how it should be treated."
To Yulinsky, Journey analytics should be attractive to almost any industry, and he recognizes the early adopters have been primarily Telecom and Banking. "It's commonplace today to apply the solution to challenges such as digital adoption, where a microcosm of a journey would show customers abandoning digital channels in favor of contact centers or retail branches because they can't find what they're looking for digitally. Seeing the abandonment points creates an actionable set of ways to improve the digital channels."
But he's particularly intrigued by the retail industry, where in today's world the "traditional framework is being stood on its head. Smart firms are designing the experience from digital out, instead of store in." Store-in has been the traditional go-to market approach even in the midst of first 2 decades of the internet, but is shifting to digital first now. "Anyone who's running any kind of multi-channel network, from a retail bank to retailers, is trying to come to terms with this core design issue – here's an approach to how you design this new experience, and a toolset that gives you visibility into the journey across all of the interaction mediums." Some of the historical challenges of tracking this journey such as lack of customer identification are also being solved with innovative new solutions in the marketplace, and as such the application of journey analytics will become more compelling.
It will be an exciting 12-18 months in this space, according to Mr. Yulinsky, and we certainly look forward to continuing to monitor the developments and impact to end consumers as more and more firms create journey analytics competencies.
About Corey Yulinsky
Corey has been a Senior Executive and Consulting Partner, and specializes in driving information/ analytics-based customer-centric strategies and programs in financial services and retailing. He's currently the founder and leader of cy.XL, a firm aimed at helping decision makers cut through Big Data rhetoric and understand where truly actionable and differentiating decisions, skills, capabilities and initiatives reside – and how to build, manage and evaluate them.