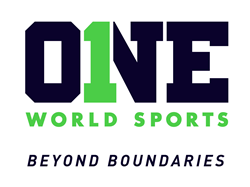 "JP and Shep are two of the most highly regarded and credentialed soccer commentators working in U.S. Television," said Joel Feld, executive vice president, ONE World Sports.
Stamford, CT (PRWEB) February 19, 2015
ONE World Sports, America's Network for Global Sports, announced today that it reached an agreement with two of America's leading soccer sportscasters to be the voices of the network's broadcasts of all the New York Cosmos matches throughout the 2015 North American Soccer League (NASL) spring and fall seasons.
JP Dellacamera has agreed to a multiyear deal with ONE World Sports, the NASL team's TV and multiplatform home, including the 2015 Cosmos matches. Shep Messing has agreed to join Dellacamera in the broadcast booth for the 2015 seasons.
"JP and Shep are two of the most highly regarded and credentialed soccer commentators working in U.S. Television," said Joel Feld, executive vice president, ONE World Sports. "They join us as we launch our third season of Cosmos telecasts and our first carrying every game, home and away, on the team's 2015 schedule."
Dellacamera has called eight consecutive Men's World Cups, including the 2014 FIFA World Cup for ESPN Radio, and called men's and women's soccer play-by-play for the last three summer Olympics for NBC. In recent years he has called Major League Soccer (MLS) play-by-play for ESPN and Fox Soccer, among other outlets, and has served on behalf of ONE World Sports as the TV voice of the Cosmos since the team's 2013 re-launch.
Messing, who served on the U.S. National Soccer Team in the 1972 Olympic Games, was the renowned Cosmos goalkeeper during the team's 1977 championship season; he later was the first player to sign with the Major Indoor Soccer League (MISL). He began his broadcasting career in 1986, calling action during the FIFA World Cup in Mexico. Among numerous other TV assignments, he worked as the color analyst for ESPN's coverage of FIFA's 2002, 2006 and 2010 World Cups and was the color analyst for NBC's soccer coverage of the 2008 Beijing and 2012 London Olympic Games. He has been inducted into the New York Sports Hall of Fame and Nassau County Sports Hall of Fame, and served on the Board of NYC2012.
About ONE World Sports
ONE World Sports is a multiplatform sports network featuring exclusive best-in-class sporting events, live from around the globe. The network was created to fulfill American sports fans' growing demand for global sports. ONE World Sports delivers live and exclusive coverage of some of America's most popular sports played outside the USA – basketball, baseball, golf and ice hockey – plus sporting events with the largest global following, including soccer and cricket.
ONE World Sports showcases some of the world's most competitive soccer, including Arsenal FC, Chelsea FC, FC Bayern Munich, AC Milan, and the New York Cosmos, along with top soccer from Asia and the Pacific Rim. The network also exclusively telecasts the England National Cricket Team's international home matches, Japan's legendary baseball team, the Yomiuri Giants, Kontinental Hockey League, Champions Hockey League, Chinese Basketball Association, OneAsia Golf Tour and the top competitions in table tennis and badminton from around the world.
ONE World Sports is available via Verizon FiOS, DISH Network, Charter Communications, Cablevision's Optimum TV, Mediacom Communications, Hawaiian Telcom, Google Fiber, RCN, Atlantic Broadband and a growing number of systems through the NCTC. A list of distributors and channels can be found here on the ONE World Sports site.
ONE World Sports is headquartered in Stamford, CT.
For more info, see http://www.oneworldsports.com.
Contact:
Tom Campo
Campo Communications, LLC
212-590-2464
Tom(at)CampoComm(dot)com