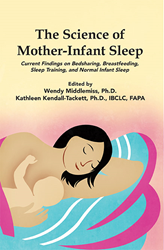 My baby is only happy in my arms. The minute I put her down she cries.
Amarillo, Texas (PRWEB) March 04, 2015
In honor of National Sleep Awareness Week, March 1-8, 2015, Praeclarus Press is pleased to offer a number of important resources for both parents and professionals. Topics addressed by the panel of international experts in mother-baby sleep include: the nature of infant sleep, how to safely bedshare, and the dangers of cry-it-out approaches. The Science of Mother-Infant Sleep, edited by Dr. Wendy Middlemiss and Dr. Kathleen Kendall-Tackett, features chapters by leading experts in mother-infant sleep from the U.S., Canada, Great Britain, and Australia. Additionally, there are white papers available for download on the Praeclarus Press website. Lastly, encore presentations of two webinars are available free of charge: Keeping Babies Safe While They Sleep: What Do Parents Need to Know About Safe Bedsharing And Breastfeeding and Creating an Emotional and Physical Safe Space Where Babies Can Sleep.
Infant sleep is a topic that seems to make headlines regularly, and for new parents it is a topic on which they often receive conflicting information from friends, family and healthcare providers. Although having a baby who is "sleeping through the night" is something most parents aspire to, the reality is that most babies wake frequently up to 12 months of age. Babies have immature nervous systems and need others to help them regulate their emotions. When adults hear babies crying and respond, babies develop the tools, both physiologically and emotionally, to calm themselves. Leaving babies to cry increases babies' stress levels and often keeps them awake longer. It does not guide them emotionally or physically toward the goal of regulating their own distress and response.
The Science of Mother-Infant Sleep describes specific strategies to calm an upset baby, such as recreating the movement the baby experienced in the womb, relying on touch and skin-to-skin contact, recreating familiar sounds, and breastfeeding. Keeping babies nearby when sleeping is also helpful. Finally, parents are urged to listen their babies and trust their instincts. Parents are ultimately the best experts in caring for their babies. Parents will also learn that there are things they can do to help everyone in their household get a good night's sleep.
To access all of the resources, please visit Praeclarus Press online. When registering for the webinars use code "MarchSleep15" upon check-out.
Wendy Middlemiss, Ph.D., CFLE, is associate professor of Educational Psychology at the University of North Texas. Her work encompasses research examining the effect of different childrearing approaches and exploring how to share this information with families and communities to promote infant, child, and family health.
Kathleen Kendall-Tackett, Ph.D., IBCLC, RLC, FAPA is a health psychologist, IBCLC, Fellow of the American Psychological Association, and is Past-President of APA's Division of Trauma Psychology. Dr. Kendall-Tackett is Editor-in-Chief of the Clinical Lactation and Psychological Trauma journals. Dr. Kendall-Tackett is the owner of Praeclarus Press which specializes in women's health. It features books, webinars, and products that support women's health throughout their lifespan. Based in Amarillo, Texas, the mission of Praeclarus Press is to produce materials that change women's lives.