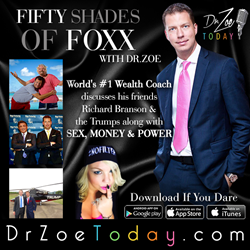 "If people say Donald Trump is arrogant & cocky, okay, well Donald Trump doesn't care what you say unless you're worth more than $6 billion. If Warren Buffett told Donald Trump he was cocky, I'm pretty sure he would listen." JT Foxx
New York, New York (PRWEB) February 19, 2015
"If people say Donald Trump is arrogant and cocky, okay, well Donald Trump doesn't care what you say unless you're worth more than $6 billion. If Warren Buffett told Donald Trump he was cocky, I'm pretty sure he would listen." JT Foxx, "The World's #1 Wealth Coach" speaks of his friend in a revealing interview airing tonight 9EST/ 8CST/ 6PST on Dr. Zoe Today. During the one hour interview, Foxx discusses some intimate details on his business associates Richard Branson, the Trumps, Sylvester Stallone, Al Pacino, Arnold Schwarzenegger and Stedman Graham just to name a few.
In the beginning of the interview, "the next billionaire" delves into his tumultuous family life, stating that they're "too controversial to be on the Jerry Springer show." Host, Dr. ZoeLena Shuster "Dr. Zoe" had similar experiences in the past with her own family. Foxx and Shuster both coach high profile individuals for a living. The two powerhouses share an undeniable chemistry during the show, making for a listening experience that is both inspirational and entertaining.
Other highlights include heated banter between the two icons, the "Ask Dr. Zoe" segment where Foxx helps Dr. Zoe answer questions submitted by listeners on love, sex and relationships and even an impromptu solo performance of Kanye West's "Gold Digger" by JT Foxx.
JT Foxx is the World's #1 Wealth Coach, with business interests and companies in the United States, Canada, Africa, UK, Europe, Australia, Asia, and New Zealand. He is also widely considered one of the top speakers, coaches and consultants in the world.
Catch the complete interview tonight via the free "Dr. Zoe Today" app, available in the App Store and Google Play at 9PM EST. The Dr. Zoe Today show is aired via this app every Thursday night, interviewing celebrities, public figures and best-selling authors for "real, raw, relevant information about love, sex and relationships" with the highest listened interview so far being with hip hop legend, Big Daddy Kane.
Dr. ZoeLena Shuster AKA "Dr. Zoe" has been "The Confidential Coach" to leaders in business, entertainment, sports, politics and religion since 1998. She is also the President and Founder of Katapult Enterprises, offering "Ultra-Exclusive Services for the High Profile Lifestyle" to include Confidential Life Coaching, Life Coach Certification, Branding and more.
For more information on the Dr. Zoe Today show, visit DrZoeToday.com.