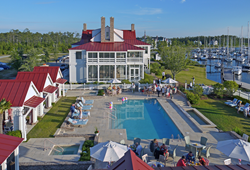 2015 Bliss Award Winner - Best Boating Community of the Year
Wilmington, North Carolina (PRWEB) February 20, 2015
As avid boaters, Real Estate Scorecard has spent their share of time boating around Florida and are aware of the importance of protected harbor when mother nature decides to churn things up. To Real Estate Scorecard, there's no better place on the North Carolina waterfront for a boating lifestyle than the Pamlico Sound, the second largest estuary along the east coast which stretches 30 nautical miles to Ocracoke Island on the Outer Banks.
For decades, sail and power boaters, who have discovered the unparalled boating on these pristine waters, have gathered in and around Oriental North Carolina buying up Pamlico Sound real estate. Voted one of the best small towns in North Carolina, this charming fishing village is fondly nicknamed the 'Sailing Capital of North Carolina' where boats outnumber residents three to one. SAIL Magazine recently rated Oriental North Carolina one of "America's 10 Greatest Places to Sail".
Just five miles from Oriental, the community of River Dunes is a boater's dream come true. With 14 miles of natural shoreline, the traditional coastal style master planned community has an 1,100 ft. deep-water channel off the Intracoastal Waterway at Mile Marker 173 leading into its protected Grace Harbor. An elegant 11,500 square foot two story clubhouse with dining and pool overlooks the 124 boat slip marina (permitted for 400 slips) that offers superlative guest boater facilities, including a 500' fuel dock with Valvtech Hi-Speed diesel fuel. A top rated customer service marina, transient and leased slips are available.
RIVER DUNES MARINA AWARDS AND ACCOLADES
2014 Top 25 Marinas in North America
2014 Five Star Rating on Active Captain
2014-2009 Five Star Rating on marina. com
2013 Best Customer Service Marina by Marinalife
2008 "A Green Gem" Sustainable Community of the Year
Amenities include a harbor side swimming pool with jacuzzis & cabanas, a fitness center, tennis courts and guest cottages. The Harbor Village with retail space is now under construction and includes a General Store and Provision Company, post office, café, and workout facility. The beautiful Grace Chapel overlooking the harbor is a delightful place for intimate weddings and family gatherings.
Real Estate Scorecard loves the curb appeal of River Dunes. Charleston-style homes and old-fashioned coastal cottages add to the charm of the neighborhood. Homes in a natural color palette with french doors and windows, screened verandas, gas lanterns, cozy fireplaces and outdoor living spaces. Homes range from the mid $400k's to well over $1 million. Homesites are available in the low $100k's. River Dunes approved builders include Ark Development, Watermark Homes, Maher Construction and Stuart Hardy Construction in this amenitized North Carolina waterfront community. Often times it's a stay at the River Dunes Marina that turns guests into permanent property owners. Club dues and HOA fees are about $319 a month, a big value to Real Estate Scorecard considering the quality of amenities.
River Dunes property owners are involved in many ways that support the local and wider community. Last year, Real Estate Scorecard attended the 4th Annual Leukemia Cup Regatta hosted by River Dunes and witnessed this massive under taking by a master planned community. It was impressive! Sailboat racing competitions took place over 2 days on the Pamlico Sound. Attendees were wined and dined under the stars and enjoyed the comradery of sailors, owners and guests from across the country. The closeness among the property owners is heartfelt. Fund raising efforts resulted in $140K for charity! Bike MS, Recitals on the River, Girls on the Run, and the Oriental Dragon Boat Races are more charity events River Dunes owners participate in the Oriental North Carolina area.
Residents living at River Dunes maximize every moment spent outdoors whether out on the water, hiking or biking the neighborhood. Kayaks, canoes and standup paddle boards are also available to property owners. Each year in October, the community comes together in family reunion-style for the Homecoming Weekend. One property owner shares "we and everyone on our block over the last year has said " wow, we live in paradise". Another said "the community focuses on connecting individuals and families. Has high standards for excellence/quality without being pretentious."
Real Estate Scorecard has visited over 70 boating communities over the past year. River Dunes is a tough act to follow. Considering all the factors, Real Estate Scorecard is proud to honor River Dunes for the 3rd time with our Bliss Award for Best Boating Community of the Year.
Buyers exploring North Carolina waterfront property should inquire about being a guest at River Dunes to experience this lifestyle up close. This friendly Pamlico Sound community will likely steal your heart. Call River Dunes direct 800-975-9565.
About Real Estate Scorecard:
Real Estate Scorecard writes unbiased real estate reviews providing in-depth information about popular master planned communities in Florida, Georgia, the Carolinas, Tennessee and Central America, all in an effort to help people discover where to retire in the South.
Website: http://realestatescorecard.com