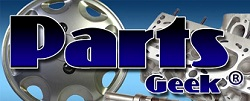 (PRWEB) February 20, 2015
As indicated in an article written Feb. 14th, 2015 and posted on Reuters.com, over 81,000 cars are being recalled by General Motors Co. due to a problem with their electric power steering systems. One of the vehicles mentioned in the article is the 2006 and 2007 Chevrolet Malibu. If this recall issue is not corrected, the driver may lose their steering capabilities. When Chevy Malibu owners bring their vehicle to the dealership to have their vehicles fixed, there is also the chance that a technician may find other parts that need to be replaced or repaired. However, instead of opting to fix or replace the part at the dealership, Chevy Malibu owners can turn to Parts Geek. In fact, Parts Geek is pleased to announce an extended inventory of Chevrolet Malibu parts.
Parts Geek is now offering over 11,900 Chevy Malibu parts. Some of the auto parts that this leading online auto parts retailer is offering includes wiper switches, turn signal flashers, termostats, radiators, starters and oil filters. Parts Geek also makes it easy to find parts for a specific Chevy Malibu model year. Therefore, those who are looking for auto parts for the 2006 or 2007 model years, can filter their results simply by clicking on the year which will then bring them to all the products they have available. Drivers who own the 2006 Chevy Malibu will be pleased to find that they have over 2,100 products available, and 2007 owners will find that they have over 1,900 products in their inventory.
Parts Geek is dedicated to providing vehicle owners with high-quality auto parts that are also extremely affordable. The company also strives to offer up to 80% off retail prices for many of their parts, and many parts also have the option of being delivered through free ground shipping. To see Parts Geek's updated inventory of Chevrolet Malibu parts, please visit their website today.
About Parts Geek:
Parts Geek offers an extensive line of auto parts, performance accessories, and part applications. While focusing on providing the largest supply of replacement parts, Parts Geek also provides the lowest prices on all new, OEM aftermarket and performance parts and accessories. Online, visitors will find an extensive catalogue of new and used parts for all domestic and imported cars and trucks. Since 1996, Parts Geek has been offering customers complete satisfaction with their high quality service. The company's main office is located in Marlton, New Jersey. The main office is open Monday through Friday, from 9 am to 6 pm, and Saturday from 9 am to 3 pm.
To hear more about the company, please visit http://www.partsgeek.com.