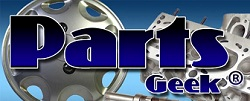 (PRWEB) February 23, 2015
An article released Jan. 31st, 2015 on wsj.com shed light on three big automakers recalling over two million vehicles due to unintentional air bag deployments. One of the vehicles mentioned in the article included the Honda Motor Co.'s 2003-2004 Odyssey. When it comes time to bring in this vehicle to remedy the recall issue, there is a high chance that many mechanics will find other parts that need to be replaced—especially due to the vehicle's age. However, replacing auto parts at a dealership can be costly, so those who would prefer a cheaper avenue can check out PartsGeek.com. Parts Geek offers millions of high-quality auto parts that are available for up to 80% off. What's more, the company is now offering over 5,600 affordable Honda Odyssey parts.
Aside from offering auto parts for the 2003 and 2004 model years, Parts Geek also offers auto parts for Honda Odysseys that were manufactured as far back as 1995 and as recently as 2015. Some of their top-selling Odyssey parts also include: brake rotors, control arms, headlight assemblies, shock absorbers, window regulators and inner fenders.
Aside from having a recently updated inventory of Honda Odyssey parts, this online auto parts retailer is pleased to announce that they now have over 490 reviews. One reviewer, who ordered an Anchor brand engine mount, had this to say about his experience with the company and the part he ordered: "The motor mount I received was exactly what I ordered. It was of very good quality. I am very satisfied with this product and would recommend Parts Geek to my friends. The shipping was fast and the service was 5 star. Thanks Parts Geek."
To read more reviews, or to see their updated Honda Odyssey inventory, please visit their website.
About Parts Geek:
Parts Geek offers an extensive line of auto parts, performance accessories, and part applications. While focusing on providing the largest supply of replacement parts, Parts Geek also provides the lowest prices on all new, OEM aftermarket and performance parts and accessories. Online, visitors will find an extensive catalogue of new and used parts for all domestic and imported cars and trucks. Since 1996, Parts Geek has been offering customers complete satisfaction with their high quality service. The company's main office is located in Marlton, New Jersey. The main office is open Monday through Friday, from 9 am to 6 pm, and Saturday from 9 am to 3 pm.
To hear more about the company, please visit http://www.partsgeek.com.