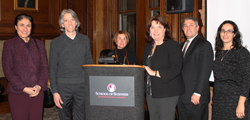 Purchase, NY (PRWEB) February 19, 2015
The Manhattanville School of Business has introduced its Nonprofit Management Certificate, a program designed for nonprofit leaders, board members, volunteers, employees and those interested in the nonprofit sector. Recognizing that no other program existed in the area to address the specific issues of today's nonprofits, an advisory board of esteemed nonprofit leaders was assembled to create this desired program. The management certificate will provide key strategies for building high performing, transparent organizations instructed by leading practitioners.
On Wednesday, Feb. 4, nonprofit leaders throughout Westchester County were invited to Manhattanville to learn more about the program's offerings from Nonprofit Management Certificate Director Rhonna Goodman and The Manhattanville School of Business dean, Dr. Anthony Davidson. The event included a welcome from Davidson and a program overview by its faculty. The certificate's advisory board was also recognized for its counsel and assistance in developing the program.
"The Nonprofit Management Certificate embodies The Manhattanville School of Business's mission to create and offer programs that focus attention on developing areas of expertise in the evolving nonprofit landscape," said Dr. Anthony Davidson, dean of The Manhattanville School of Business. "This program is truly unique because of collaboration with nonprofit leaders across the county. Our modules directly address the skills that nonprofit leaders find most valuable."
"We found that there was high demand for an academic-based program to teach the fundamental principles and skills needed to succeed in today's expanding nonprofit sector," Goodman added. "Manhattanville's Nonprofit Management Certificate is designed to give people the knowledge needed to be effective leaders in the nonprofit world."
The Nonprofit Management Certificate will be delivered in a hybrid format using face-to-face and video conference sessions. Participants enroll in one module per month, on a rotational basis, and can complete as many modules as they choose. Instructors are available for personal guidance after each module has been completed.
Those who complete all five modules receive the certificate and are eligible to receive advanced standing in the M.S. in Business Leadership degree at Manhattanville. The modules and topics of focus are:

Financial Management: bookkeeping, politics in budget making, contract work, and basic financial software
Staff Management: human resources, organizational culture, performance measurement, staff recruitment and management
Fundraising & Development: strategic partnerships, grant writing, and grant stewardship
External Relations: collaboration with public officials, board development and governance, risk and change awareness and management, crisis preparedness and crisis management, and reframing an organization
Marketing: media relations, new media engagement, and social media networks
The C-Suite Perspective is an optional two-week capstone module for those who have completed the certificate or have senior level experience.
For more information about the Nonprofit Certificate program, visit http://www.mville.edu/programs/nonprofit-management-certificate or contact Rhonna Goodman at 914-323-5150 or rhonna.goodman(at)mville(dot)edu.
About The Manhattanville School of Business:
The Manhattanville School of Business (MSB) helps prepare today's professionals for tomorrow's business. Students capitalize on the school's industry-driven content, convenient formats, and extensive faculty and alumni network. Graduates and faculty are employed at top companies including Morgan Stanley, MasterCard, PepsiCo, the NFL, Verizon, and the New York Stock Exchange.
Located in the heart of Westchester County in Purchase, NY – and surrounded by Fortune 100 and 500 companies – MSB offers six Master's degrees, including Business Leadership, Finance, Human Resource Management and Organizational Effectiveness, International Management, Marketing Communication Management and Sport Business Management.
MSB also offers graduate-level advanced certificate programs in Business Leadership, Finance, Human Resource Management, and Marketing Communication Management; three accelerated Bachelor's degree programs for adult learners and degree completers; dual degree options; a pre-professional post-baccalaureate degree program; the Education and Research Center for Managing Risk; a unique Nonprofit Management Certificate program that is delivered in five-module hybrid format; and the Women's Leadership Institute, designed to meet the leadership and professional development needs of women in the workplace. Additionally, MSB's Corporate Learning Services offers an array of industry-driven resources to assist organizations develop their employees and achieve their goals.
For more information about program offerings, visit http://www.mville.edu/business or call 914-323-5150.