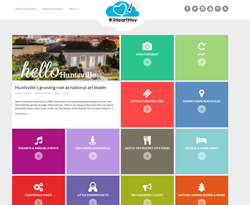 "We are harnessing the talent of local writers to tell Huntsville and Madison County's stories on iHeartHsv.com so that we may ultimately increase travel and tourism to Madison County." - CVB Pres/CEO Judy Ryals
Huntsville, AL (PRWEB) February 19, 2015
On the last day of its #iHeartHsv social media campaign, the Huntsville/Madison County Convention & Visitors Bureau (CVB) announced the launch of a new blog inspired by the now two year old #iHeartHsv social media campaign ̶ iHeartHsv.com. The blog will feature original content from over 10 local contributors as well as CVB staff. All content will target potential and current visitors as well as meeting planners who are considering bringing convention business to Madison County. New blog posts on iHeartHsv.com will be published each Wednesday.
"Our community helped put men on the moon, has four of Alabama's top ten tourist attractions, the second largest research park in the nation, a state-of-the-art convention center, beautiful outdoor recreational offerings and a thriving food and craft beer scene," President/CEO of the Huntsville/Madison County CVB Judy Ryals said. "We are harnessing the talent of local writers to tell those stories and more on iHeartHsv.com so that we may ultimately increase travel and tourism to Madison County."
The new blog, iHeartHsv.com, will feature several regular series including but not limited to:
-Attraction Pro Tips: iHeartHsv bloggers will provide local tips on exploring Huntsville/Madison County attraction offerings
-My Madison County: the CVB will ask local residents to give visitors their picks for favorite things to do in Huntsville/Madison County
-HuntsvilleMade: a series on local shopping and locally made products in Huntsville/Madison County
-Gotta Try This Food: iHeartHsv bloggers' picks for the one, gotta-try and signature item at local restaurants
-'Little' Known Huntsville: cool facts visitors might not know about the Rocket City. Miniature social media local favorite @BuzzHuntsville will author this series.
-MeetHuntsville Pro Tips: a series for meeting and event planners considering Huntsville as their next host city
The Economic Impact of Travel to Madison County
According to the latest report from the Alabama Tourism Department, the travel industry pumped $997 million into Madison County's economy and is responsible for 14,255 local jobs.
"Everything we do at the Huntsville/Madison County Convention & Visitors Bureau has a singular purpose: stimulate tourism and travel to generate a positive economic impact that increases the quality of life for residents, saves taxpayers money and highlights the Rocket City as one of the most unique destinations in the world," Ryals said. "We do this through a variety of means whether it be our Convention Sales team recruiting convention business, our Marketing strategy and materials reaching the potential and current visitor in their preferred mediums or our latest platform iHeartHsv.com. We are passionate about Huntsville/Madison County, and our excitement to share that passion with the world never wanes."
For more information, please contact Jessica Carlton, Marketing Manager at the Huntsville/Madison County CVB, at jessica(at)huntsville(dot)org or by phone at 256.551.2294.
Be sure to connect with the Huntsville/Madison County CVB on Facebook, Twitter and Instagram for updates on what's going on in Huntsville/Madison County, travel-related news and upcoming meeting and conference information.
About Huntsville/Madison County CVB
The Huntsville/Madison County Convention & Visitors Bureau (CVB) is a non-profit 501(c)(6) organization which was developed in 1970 to create economic growth for Huntsville/Madison County by marketing the city as a top-of-mind convention and visitor destination. As the official city/county agency which promotes the area as a tourist destination and convention site, the CVB partners with an array of hospitality industry partners to market our destination to visitors of all types.