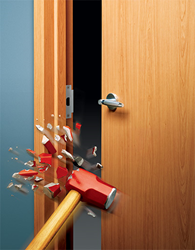 Muncy, PA (PRWEB) February 24, 2015
Construction Specialties, Inc. (C/S), a leading manufacturer of high performing specialty building products, has introduced a new product offering to its Acrovyn Door line that allows door frames to withstand damage in high-traffic commercial buildings. The new Acrovyn Frame System eliminates the need for frequent and time-consuming repairs that can be very costly over time.
Acrovyn Doors, introduced over a decade ago, were specifically developed for high traffic, high impact areas. Built with the same durability, the Acrovyn Frame System features a steel door frame clad in industry-renowned Acrovyn sheet. This wrap quickly and securely locks onto the frame, eliminating the use of adhesives. In the rare instance of damage, it is field replaceable. Additionally, each frame is manufactured to specific project specifications in order to ensure a perfect fit, every time.
The Acrovyn Frame System, available in all standard solid colors and Chameleon patterns, can be matched to or coordinated with a room's doors and wall protection. Designers can now create a seamless room design with a stunning overall effect.
"One of the biggest gripes we hear from Facility Owners is the challenge of keeping their door frames damage-free and looking like new," said Paul Snyder, General Manager, C/S Acrovyn Door Division. "Our new Acrovyn Frame System is engineered to provide durability and longevity, as well as beautiful aesthetics. Along with the Acrovyn Door, we now offer another way to protect openings against the wear and tear of everyday traffic. We are proud to offer this unique solution to interior damage."
For more information on the Acrovyn Frame System, visit http://www.c-sgroup.com/acrovyn-doors/frames and follow us on Twitter @AcrovynDoors.
#
About Construction Specialties Inc.
Construction Specialties, Inc. manufactures and sells specialty architectural products internationally, with over 30 offices and manufacturing facilities worldwide. Its products include interior wall and door protection, entrance flooring, expansion joint covers, louvers, grilles, sun controls, explosion vents, smoke vents, and cubicle track/curtains. The company serves architects and designers, building owners, facility managers and contractors. Construction Specialties, Inc. was founded in 1948 and is headquartered in Lebanon, New Jersey.