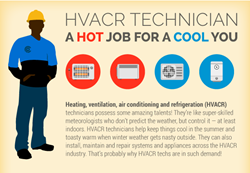 The 2013 median salary for HVACR mechanics and installers in CT and MA was more than 25% higher than the national wage
Rocky Hill, CT (PRWEB) February 19, 2015
Porter and Chester Institute has created a brand new infographic highlighting the career of a heating, ventilation, air conditioning and refrigeration (HVACR) technician. The informative and easy-to-follow infographic outlines what someone considering a career in HVACR might expect from the profession.
HVACR Technician: A Hot Job for a Cool You answers a range of questions for those considering a career in HVACR from the skills and training someone would need to succeed in the profession to salary and job prospects. According to the infographic, there were more than a quarter million HVACR mechanics and installers working in the U.S. in 2012 and more than 10,300 working in Connecticut and Massachusetts in 2013.
HVACR is a growing industry that helps to ensure that indoor environments are safe, healthy and temperature-controlled. Technicians who work in HVACR can choose a residential or commercial focus where they will install, maintain, troubleshoot and repair gas, oil, electric and hydronic heating, air conditioning and refrigeration systems.
According to the infographic, HVACR technicians can expect strong job prospects through 2022 and their salaries will rise as their level of experience does. The infographic notes that the 2013 median salary for HVACR mechanics and installers in both Connecticut and Massachusetts was more than 25 percent higher than the national wage.
The infographic also explains the training needed to become an HVACR technician and briefly outlines the HVACR program available at both the Connecticut and Massachusetts campuses of Porter and Chester Institute. The school's hands-on programs offer students a solid knowledge base of the HVACR profession and plenty of opportunity to try out their knew-found skills.
Anyone wishing to learn more about a career in HVACR can check out the infographic now or visit the school's website for more detail about the Porter and Chester Institute HVACR program.
About Porter and Chester Institute:
Porter and Chester Institute is a Connecticut-based postsecondary institution with more than 60 years of experience providing technical, business, and healthcare occupational preparation. Founded in 1946, the Institute trains more than 3,000 students annually through its nine campuses in Connecticut and Massachusetts. Porter and Chester Institute is accredited by the Accrediting Commission of Career Schools and Colleges (ACCSC), is approved by the Connecticut Office of Higher Education, and licensed by the Commonwealth of Massachusetts Division of Professional Licensure, Office of Private Occupational School Education. Porter and Chester Institute uses hands-on education to prepare students for successful careers in a variety of fields.