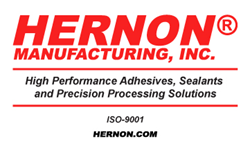 The new construction not only enables us to expand our operations and staff, it also enables us to more efficiently manufacture our adhesives and dispensing equipment.
Sanford, Fl (PRWEB) February 19, 2015
Hernon Manufacturing, the innovator in adhesive and sealing technologies, has announced the closing on its construction loan for its new building expansion. Construction of this new manufacturing space will begin in March of this year.
The new construction will be located adjacent to the company's existing building, which is situated on the corner of Tech Drive and Central Park Place in Sanford, Florida. When complete, the new building will be 160% of the size of the current facility. The added manufacturing space will enable Hernon to increase its production capabilities. In doing so, it will be necessary to also to increase their staff by 50% over the next two years.
"Our manufacturing company has experienced great success and growth during the many years we have been in Central Florida," said Edgardo Rodriguez, Director of Sales and Marketing for Hernon Manufacturing. "We have designed a building that will not only enable us to expand and more efficiently manufacture our adhesives and dispensing equipment, but also be energy efficient incorporating the latest technologies that you would expect to find in a modern manufacturing facility."
The date for the official groundbreaking ceremony will be announced in the upcoming weeks.
HERNON Manufacturing, Inc. has been in business for more than 30 years and offers solutions to recognized international companies in applications such as automotive, electrical, electronics, communication, aerospace, appliances, military ammunition, power generation and transportation. These technologies include anaerobic, cyanoacrylate, epoxies, acrylics, methacrylates, U.V. visible cure including customized technologies and many more.
The company has been committed to delivering world class adhesive, sealant, and impregnation solutions along with precision dispensing systems for nearly four decades. A long-time member of Central Florida's industrial manufacturing community, HERNON offers strong brands and technologies, all made in the United States, for a diverse range of industries including: Energy/Power Generation, Medical, Electronics, Electrical, LED, Automotive, Appliances, Sporting Goods, Ammunition, Communications, Aerospace, Aviation, High Tech Audio, Defense, Fire Suppression, Transportation, and Marine. HERNON is proud to be an ISO-9001:2008 and ITAR registered company whose products meet or exceed Mil-Specs.

Manufacturer of Highest Impact Resistant Structural Adhesive Available (50 Jewels)
Awarded 2012 ThinkGlobal Exporter of the Year
Nominated one of Florida's Top Companies to Watch in 2012
Received the 2012 William C. Schwartz Industry Innovation Award
Named 2013 State of Florida Small Business Exporter of the Year
Recognized by Orlando Business Journal as a Fast 50 Company
Visit http://www.hernon.com or contact 407-322-4000 for more information.