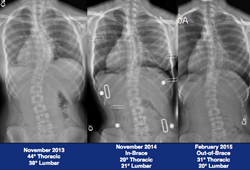 The right treatment, implemented at the right time, can mean a world of difference for adolescent idiopathic scoliosis.
Boston, Ma (PRWEB) February 27, 2015
Scoliosis affects an estimated 7 million people in the U.S. and begins primarily in adolescence. Standards of treatment include observation, bracing, and spinal fusion surgery for curves that reach a Cobb angle of 40º - 50º. Now, an innovative scoliosis brace from Germany, the Cheneau-Gensingen – new to the U.S., combined with Schroth method exercise therapy is making an impact and providing adolescents the opportunity for scoliosis improvement.
The NJ patient featured in the x-ray series is currently a fourteen-year-old female with adolescent idiopathic scoliosis (AIS). She presented for treatment at Scoliosis 3DC, Boston, when she was thirteen years-old and a Risser 3. Her initial spinal Cobb angles measured 44º thoracic and 38º lumbar. She was fitted with the Gensingen brace in December, 2013 and participated in a twenty-hour scoliosis exercise program under the instruction of Schroth therapists Dr. Marc Moramarco and Amy Heller OTR/L. The patient continues to be compliant with her treatment plan, wearing her brace twenty-two hours a day and doing her daily Schroth program. Fourteen months later, the patient's Cobb angles now measure 31º thoracic and 20º lumbar when out of brace for 24 hours. This is a 30% curve reduction in the thoracic spine and a 47% curve reduction in the lumbar spine (note: all x-rays were taken at an independent facility). While it is too early to document the overall effect of this two-pronged treatment approach, the effectiveness of the Schroth Best Practice program and the Gensingen brace are both individually supported by published research.
Although scoliosis progression is unpredictable and each spine is different, this patient's result provides hope for growing adolescents with idiopathic scoliosis. Research suggests that most curves that hold to 30° (or less) at skeletal maturity will stabilize. Therefore, this patient is well on her way to achieving what most physicians say is impossible - scoliosis curve reduction. Her scoliosis experience shows that the right treatment, implemented at the right time, can mean a world of difference for adolescent with scoliosis. Before beginning her Schroth Best Practice program, this patient's primary curve measured 44°, making her a likely candidate for surgery. Instead, she is now nearing skeletal maturity and has improved her scoliosis to the point where progression in adulthood may no longer be a concern.
The German-designed Chêneau-Gensingen brace differs from its popular US counterparts: the Boston, Wilmington, Charleston, and Providence braces. These traditional scoliosis braces only aim to stop curve progression. In contrast, the Gensingen brace strives for some degree of curve reduction when fit in a timely manner (during growth). It also aims for postural improvement and addresses spinal curves with higher Cobb angles which are typically not braced and usually recommended for spinal fusion surgery.