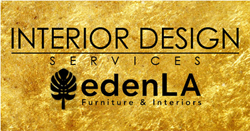 We're here to take the guess work out of interior design for those without the experience.
Los Angeles, CA (PRWEB) February 24, 2015
EdenLA Furniture and Interiors is a Los Angeles-based interior design firm specializing in custom furniture for creating beautiful spaces. Jamie Roddy, Founder and CEO, has announced she is launching her newest innovation: E-Design – an interior design service that clients around the world can enjoy remotely.
Through her website, Roddy has made it easy to access and use the new E-Design service. Those interested in participating are invited to upload photos of their space along with written descriptions of their uses and intentions for the project. In return, they will receive full-scale floor plans as well as recommendations for color, products, and fabrics to complete an entire room.
An additional facet of the service gives prospective clients E-Décor's expert advice before they purchase any furniture or accessories. Roddy calls this The Little Something. Users can upload a photo of their space and ask simple questions such as, "Will this lamp be the right size for the table?" Or, "Is this coffee table a good selection considering the rest of the room?"
The Little Something advice, which doesn't include custom plans and boards, is totally complimentary.
The E-Design Full Monty room plans and color boards are available at no cost to purchasing clients. Eden LA takes a $200 deposit and then creates scaled floor plans (based on each client's dimensions provided) as well as color boards (based on client preferences). The $200 deposit becomes a credit toward purchases totaling over $1000. As an added incentive, the designer working on a project will personally select a surprise accessory gift to complement their client's new home décor selections.
"It's like having a satellite interior designer focused on your project," notes Roddy. "We're here to take the guess work out of interior design for those without the experience. And without the expense of commissions or travel fees, more people than ever can enjoy the rewards of living in an environment customized to your needs. We even include a free accessory as a thank you gift!"
On its website, Eden LA also offers completely customizable upholstery pieces made in their own Los Angeles factories. Each piece is designed to accommodate specific requirements. If a client wants a headboard ten inches higher than standard, they need only request that change. If they would like to use their own fabric, want to add nail heads or to remove tufting, clients simply have to ask. Almost any request will be met quickly and easily.
Roddy has more than a decade of experience in designing custom furniture for harmonious interior spaces. With her big smile and outgoing personality, she travels the world curating outstanding pieces of furniture and home décor for her private interior design clients as well as for displaying on her Eden LA website. Clients find that working with Roddy is almost as rewarding as the final product: living in the perfectly designed home of their dreams. Intelligent, wildly creative, and genuine, Roddy fills the atmosphere of the spaces she creates with warmth as inviting as her interiors.
To learn more about Eden LA and its new E-Design services, visit their website at http://www.edenla.com. To ask questions about individual projects, contact EdenLA at 310-820-8109 or send an email note to edenla(at)edenla(dot)com.