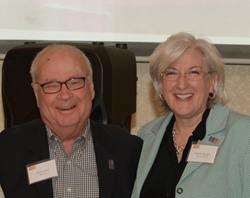 Hartford, CT (PRWEB) February 21, 2015
CCAR announces the Bill Leary and Judith Stonger Leadership Scholarship Program. Bill Leary and Judith Stonger served as members of the Connecticut Community for Addiction Recovery (CCAR) Board of Directors for nine years. Having served three consecutive terms of three years each, their Board membership formally ended in January 2015. Their outstanding leadership and activities in support of the vision and mission of CCAR have been so superb that Bill and Judith leave a legacy which will positively impact the organization for many years in the future.
"Bill and Judith not only contributed their skills and time in support of the Board's responsibilities, but they did so with personal leadership styles that promoted a positive board culture, an informed decision process and informal mentoring of other board members", said Tom Kirk, CCAR's Board President. "Together their efforts position CCAR for its next generation of activities, all in support of an improved quality of life for individuals, families and communities in Connecticut and elsewhere".
In honor of their legacy, the Bill Leary and Judith Stonger Leadership Scholarship Program has been established. Its purpose is to provide opportunities for people who have participated in CCAR programs to enhance their leadership skills through formal training, mentoring and related opportunities. The overall goal of the Leadership Scholarship Program is to create a pool of leaders from the Recovery Community Centers to inform the Board of Directors about ideas and approaches for Board consideration that will significantly enhance the Mission of CCAR.
Such leaders could eventually be considered for membership on CCAR's Board or recommended as candidates for other boards whose missions are important to people in recovery. The first pool of scholarship candidates are in the process of being identified with training and mentoring opportunities. The overall program and available funding will be reviewed annually.
The Connecticut Community for Addiction Recovery is a legally established 501(c)3 nonprofit organization. As such, the Board must ensure that the organization operates in accordance with the laws regulating such organizations and that there is accountability relative to its financial, service and personnel operations. Among other responsibilities and functions, Board members work to set direction and policy, establish goals and budgets, raise funds and oversee the operations of the agency to actively promote CCAR in the Connecticut community and create visibility for CCAR programs and services.
Since 1998 the Connecticut Community for Addiction Recovery (CCAR) has organized the recovery community (people in recovery, family members, friends and allies) to put a face on recovery and to provide recovery support services to help sustain recovery. By promoting recovery from alcohol and other drug addiction through advocacy, education and service, CCAR strives to end discrimination surrounding addiction and recovery, open new doors and remove barriers to recovery, maintain and sustain recovery regardless of the pathway, all the while ensuring that all people in recovery, and people seeking recovery, are treated with dignity and respect. CCAR envisions a world where the power, hope and healing of recovery from alcohol and other drug addiction is thoroughly understood and embraced.