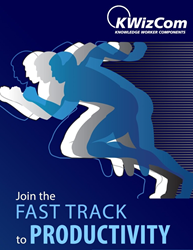 Toronto, ON (PRWEB) February 19, 2015
KWizCom, a leading provider of SharePoint Forms and Mobile Solution designed to expand Microsoft SharePoint, announced "Buy 1 Get 1 Free" promotion, enabling the clients to obtain the second add-on of their choice at no cost. Customers purchasing any production license of KWizCom add-on will be getting another production license for free at equal or lesser value for the same or a different product!
SharePoint users are encouraged to take advantage of KWizCom's offering which is valid until March 31, 2015.
KWizCom offers over 50 top-notch add-ons, all designed to get users on the fast track to productivity and rapidly enhance their SharePoint environment. The company's mission is to provide clients with high quality products geared toward the perfect solution for their business goals, which is always bundled with great service and exceptional customer support.
Follow KWizCom on Twitter https://www.twitter.com/KWizCom
Become a fan of KWizCom on Facebook: https://www.facebook.com/KWizCom
Join KWizCom on LinkedIn: http://www.linkedin.com/company/kwizcom
Contact a KWizCom representative to take advantage of this offer at +1-905-370-0333 or sales(at)kwizcom(dot)com
About KWizCom
Since 2005, KWizCom has provided innovative solutions and services to make SharePoint even better for over 5,000 companies worldwide. KWizCom's solutions and services expand Microsoft SharePoint out-of-the-box capabilities, streamline workflow, maximize efficiency and enhance over-all productivity for hundreds of thousands of users. KWizCom Software is available to federal, state & local government agencies through GSA IT Schedule 70 Contract.
KWizCom, a Gold Certified Microsoft Partner, is headquartered in Toronto, Canada. Please visit www(dot)kwizcom(dot)com to find out more about KWizCom's clients, people, partners and solutions.