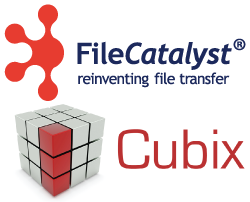 FileCatalyst will provide Cubix users with blazing-fast transfer of their large media files
Ottawa, Canada (PRWEB) February 24, 2015
Unlimi-Tech Software, Inc., an Emmy® Award winning pioneer in managed file transfers and the creator of FileCatalyst, a world leading accelerated file transfer solution, is proud to announce an integration partnership agreement with UK based Cubix.
Cubix is an end-to-end solution asset management, automation and orchestration system for media and broadcast facilities. Cubix encompasses all the required workflows for media management, processing and delivery in an enterprise-class platform.
As an integration partner, Cubix incorporates FileCatalyst accelerated file transfer into highly configurable workflow and media management solution. File sizes continue to increase, and traditional file transfer methods such as email and FTP are slow and unreliable. FileCatalyst uses a patent-pending UDP-based protocol, which can transfer files of any size and any format, at rates of up to 10Gbps. Files can now be transferred in minutes, instead of hours or days, even across unreliable networks and vast distances. FileCatalyst also ensures security by incorporating advanced encryption.
"At Cubix we're always striving to integrate the best products and platforms into our solutions," said James Gibson, Founder & CEO at Cubix. "By integrating FileCatalyst into Cubix at an API level, we're able to offer intelligent, accelerated file transfers seamlessly as part of our orchestration solutions, giving clients the utmost efficiency in workflow, technology, and design."
"We're thrilled to partner with Cubix to integrate our file transfer software into their media management solution," said Unlimi-Tech's Vice President of Business Development, Alan Atkinson. "FileCatalyst will provide Cubix users with blazing-fast transfer of their large media files, which is what today's media and broadcasting professionals demand."
About Unlimi-Tech Software, Inc.
Located in Ottawa, Canada, Unlimi-Tech is an Emmy® Award winning pioneer in managed file transfers and the creator of FileCatalyst, a world leading accelerated file transfer solution. Founded in 2000, the company has more than one thousand customers in media and entertainment, energy and mining, gaming, and printing, including many Fortune 500 companies as well as military and government organizations. FileCatalyst is a software platform designed to accelerate and manage file transfers securely and reliably. FileCatalyst is immune to the effects that latency and packet loss have on traditional file transfer methods like FTP, HTTP, or CIFS. Global organizations use FileCatalyst to solve issues related to file transfer, including content distribution, file sharing, and offsite backups. To learn more visit http://www.filecatalyst.com or @FileCatalyst on Twitter.
About Cubix
The Cubix platform is created by Loft London Solutions, and is designed as a high configurable, multi-tenanted, end to end solution for a wide range of media environments. Ranging from post to playout, VoD to archive, clip sales to cloud playout, Cubix offers extremely high levels of configurability and flexibility in regards to orchestration, metadata and asset management. Fully supported in public cloud environments, on premise deployments and multi-site capabilities – Cubix also supports a wide range of best of breed vendors via API integrations. To learn more and request a demo, please visit http://www.cubix.tv.