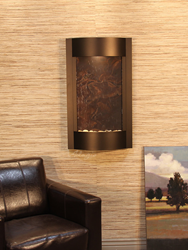 (PRWEB) February 19, 2015
Adagio Water Features has just released its list of the five highest selling water features for 2014. They produce 20 water fountain collections, each having between 30 - 50 different varieties to choose from. These indoor waterfalls range from smaller wall mounted styles to grand freestanding fountains.
5 – Whispering Creek with Square Antique Bronze Trim and Natural Green Slate and Whispering Creek with Square Copper Vein Trim and Natural Multi-color Slate. Fifth place was a tie with two different versions of the Whispering Creek wall water feature. This water feature measures 22" w x 46" h x 5" deep and comes with a simple on/off switch. This water feature is available in six different metal finishes and seven water surfaces. The Whispering Creek is the smallest of the vertical indoor wall water features that come in solid natural slate.
4 – Tranquil River Center Mounted with Stainless Steel Trim and Clear Glass. This mid-sized freestanding water feature measures 41" w x 90" h x 14" d and comes with a remote that will turn it on and off from anywhere in the room. This water wall comes center mounted with clear, green, or blue glass. They make great room dividers in a business or home. The Tranquil River is also available in a flush mount with three different FeatherStones, three different mirrors, and two different marble options. The four metal trim choices enable anyone to match their décor and personal tastes.
3 – Sunrise Springs with Square Rustic Copper Trim and Natural Multi-color Slate. This mid-sized horizontal water feature measures 52" w x 35" h x 6" d and includes a 4-way pull chain. This chain allows the water feature to run just the lights, just the water, both lights and water, or turn it off. It is available in three different metal finishes with rounded or squared edges and a choice of eleven different water surfaces. The Sunrise Springs options include lightweight FeatherStone, natural slate, mirror, marble, and travertine.
2 – Reflection Creek with Square Blackened Copper Trim and Natural Green Slate. This is the smallest horizontal water fountain sold by Adagio. It measures 38" w x 27" h x 5" d and is perfect for behind a reception desk, above a table, or over a sofa. It includes a simple on/off switch and is available in six different metal finishes and seven water surfaces.
1 – Serene Waters with Antique Bronze Trim and Multi-color FeatherStone. This water feature is fully framed and measures 21" w x 36" h x 6.5" d. It is easy to install and comes with an on/off switch. The small size allows it to be included in any room. The seven metal trim finishes and five water surfaces make this water feature an interior designers dream. Any décor and style can be enhanced by adding a Serene Waters.
About Water Features Inc:
Water Features Inc began its E-commerce business in 2008 and represents the finest products in the industry. Our highly trained staff of service representatives are prepared to handle all aspects of your transaction before and after the sale. Please visit our site at http://www.WaterFeaturesInc.com.