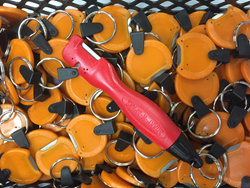 "One without a Sharp-N-Spark is not one at all..!"
Cheyenne, WY (PRWEB) February 20, 2015
As the seasons shift from Winter to Spring, outdoor enthusiasts begin dreaming of their next adventures. Hiking the trails of america, camping in the most scenic destinations, fishing in the placid lakes and flowing rivers, road tripping across the U.S., or hunting for some of the world's best game are just a few of the exciting adventures that await this year's next excursion.  Along with the birth of a new season arrives a slew of new, innovative products promising to aid the outdoorsman, and survivalists… but only few had stood the test of time like the absolute proven knife sharpener and firestarter created by Sharpens Best - http://www.SharpensBest.com.
For 26 years, the SharpensBest knife sharpeners have held an edge like no other. With the world's hardest alloy, this Tungsten Carbide tool has stayed sharp for nearly three decades. Even with repetitive and harsh friction against hundreds of different blades, knives, tools and variety of dense metals, the original SharpensBest sharpener has stood the abuse of sharpening knives to world's sharpest levels. Now again, with the change of times, comes the introduction of a new innovative product... The 'Sharp-N-Spark'
Man makes Fire!  Again..!
The Sharp-N-Spark is the answer to a consolidated tool that literally can save lives!  It is the only survival item of it's kind that can keep tools and knives sharp, while housing a magnesium firestarter in the handle. It can create high temperature spark igniting kindle, rain or shine.  The magnesium fire starter lasts a lifetime and makes for a handy survival tool fitting right in a small pocket.
The selection continues with any of the other SharpensBest family members, getting the sharpening job done just as fast. As avid outdoor enthusisasts, these intuitive pocket-size knife sharpeners speed up tasks. The SharpensBest sharpeners are not only durable, but sharpen almost any type of blade, as well as 44 tools from around the house, workshop, office, or kitchen. SharpensBEST.com is the go-to resource for survival gear and accessories that absolutely will make the next outdoor adventure that much better!
Choose from the Poker Chip knife sharpener. A small round tungsten carbide sharpener that fits easily in a coin pocket or on a key chain.  The Rectangle sharpener is slightly larger and includes a V-notch carbide sharpener to help start a rough blade before it's finished of with the sharpener. The Long Handle is the most popular, oldest and most proven of the family. This easy to handle sharpener belongs in a tool case, truck, or kitchen drawer, tackle box, hunting kit or bug out bag. And, of course, the newest all in one Sharp-N-Spark is becoming the most popular addition to this successful line of pocketable and effective knife, blade, and tool sharpeners.
Not only is SharpenBest.com dedicated as an outdoor survival source and website, it is also labeled as an entertaining and educational network on Youtube with thousands of videos, how tos, tips, and random clips that will keep watching for hours. SharpensBest Adventures channel takes us with owner Brad Buckner as he sharpens, cuts, chops, hacks, slices, and enjoys the local flair and lifestyle of area cultures and amazing events from around the map. 
Brad pioneered mass distribution of SharpensBest and knows more about how to sharpen with the family of sharpeners than anyone else in the world. With a lifetime of hunting, hiking, camping, and fishing experience, Brad knows these are the best sharpeners available on the market. Join him on his YouTube Channel where he does more than sharpen blades, he teaches and entertains! Visit at http://www.YouTube.com/SharpensBest
Brad has taken his knowledge of sharpening and sharpeners to hundreds of venues performing demos of these resilient products, three to four days a week, 48 to 50 weeks a year for years. He has averaged over 100,000 demos in all. During his demos he uses the same sharpeners to prove their durability. Every 10 days equals hundreds of thousands of strokes and his sharpener is still going strong. In addition, Brad provides classes and online tutorials to showcase just how effective these sharpeners are. Visit the YouTube channel for product tutorials and demonstrations.  Find Brad's name and Phone number molded right into the SharpensBest long handle sharpener. All products are guaranteed for life.  
To Learn more, visit SharpensBest Knife Sharpeners & Fire Starters at http://www.SharpensBest.com
http://www.YouTube.com/SharpensBest
Cheyenne, WY