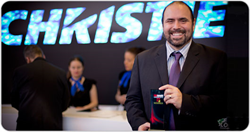 We deliver what our customers want and this award demonstrates our ongoing commitment to developing high quality products,
Cypress, California (PRWEB) February 20, 2015
Christie® earned two highly prestigious awards for technical innovation at this year's ISE Show in Amsterdam last week. Christie's 6P laser technology was voted the 'AV Innovation of the Year' by leading British based trade journal, 'AV News.' The award recognizes the contribution made by individuals and teams to the development of the AV business, and marks the arrival of new technologies that will have a significant effect on the AV industry.
The mission set out by Christie 6P laser projection was to redefine the 3D cinema experience by delivering the optimum 14 fl to 3D along with no motion artifacts. It provides unprecedented brightness and smooth, natural viewing with stunning uniformity and detail.
"Christie's decision to use the dual headed projection system for providing the most comfortable 3D viewing experience and delivering the brightest picture is reinforced by this award," said Don Shaw, senior director, Product Management for Christie. "It is also a testament to our engineering capability and our knowledge of what the market truly needs. As a result, Christie's 6P laser projection is setting the standard for cinemas and other 3D projection applications by providing the ultimate viewing experience."
Christie GS Series wins prestigious InAVation Award
Christie's GS Series of laser phosphor projectors picked up a major global award for 'Most InAVative Projector' at the highly prestigious annual 'InAVation Awards.'
Sponsored by InAVate Magazine​, and held at the Gashouder, Amsterdam during the annual ISE Show, this category recognizes a remarkable technology that avoids the downtime, cost of lamp and filter replacements, and the maintenance associated with lamp-based projectors. It further acknowledges that laser phosphor illumination provides an impressive 20,000 hours of low-cost operation, with wireless connectivity, a small footprint, low-weight, quiet operation and a full suite of lenses.
"We deliver what our customers want and this award demonstrates our ongoing commitment to developing high quality products," said Curtis Lingard, product manager, Christie. "With our GS Series, I think we are seeing the start of a new technology in the market – and I hope we will see a lot more – with Christie leading the way."
About Christie
Christie Digital Systems USA, Inc. is a global visual and audio technologies company and is a wholly-owned subsidiary of Ushio, Inc., Japan. Consistently setting the standards by being the first to market some of the world's most advanced projectors and complete system displays, Christie is recognized as one of the most innovative visual technology companies in the world. From retail displays to Hollywood, mission critical command centers to classrooms and training simulators, Christie display solutions and projectors capture the attention of audiences around the world with dynamic and stunning images. http://www.christiedigital.com.
Follow us:
Twitter.com/christiedigital
Facebook.com/christiedigital
#christiedigital
"Christie" is a trademark of Christie Digital Systems USA, Inc., registered in the United States of America and certain other countries.
DLP® is a registered trademark of Texas Instruments
All other trademarks are owned by their respective companies.​