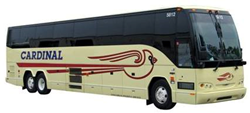 Cardinal has been going through this process over the past year, with driver training and vehicle certification, and we just finished the final steps of certification
Middlebury, IN (PRWEB) February 19, 2015
In its efforts to provide affordable travel options while reducing its carbon footprint out on the road, Cardinal Buses is announcing that the company has just completed a "green certification" program. Over the past year, Cardinal Buses has been heavily involved in a program offered by the University of Vermont called the Certification for Sustainable Transportation (CST), and it joins other bus companies from across the country in CST's latest EcoDriver and Idle Free Certification Programs. According to the program's official website, this campaign is part of an ongoing process to educate bus companies and bus drivers on the importance of eco-friendly travel.
Cardinal Buses has participated in the CST EcoDriver and Idle Free Certification programs through onsite driving training and through offsite training provided through an online program portal. The company has been working hard to train each of its drivers and certify all qualified vehicles.
"Cardinal has been going through this process over the past year, with driver training and vehicle certification, and we just finished the final steps of certification," says Sales Manager S. Dodd. "We're doing this primarily to partner with local college and university sustainability initiatives."
The University of Vermont's CST program was created in 2012, and has since offered environmental sustainability training to over 50 travel companies throughout 26 states through an eRating certification program which CST Director David Kestenbaum likens to "an Energy Star label." According to Kestenbaum, the certification programs are completely voluntary and, in most cases, the materials are completely free. The eRating scale measures a variety of factors for each company, including the use of low-emissions technology, use of alternative fuels and power sources, and the amount of greenhouse gas emissions per passenger mile that each company's vehicles produce.
While the program is open to transport companies with any eco-friendly vehicles, CST has noted that buses, such as the coach buses owned and operated by Cardinal Buses, tend to be the most efficient vehicles on the road.
About Cardinal Buses
Cardinal Buses is a family owned company with 56 passenger coaches. Cardinal Buses takes extra measures to ensure a top experience with their bus charters, and their drivers receive ongoing training. To learn more, visit cardinalbuses.com