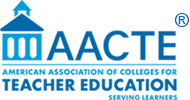 Washington, DC (PRWEB) February 20, 2015
The American Association of Colleges for Teacher Education (AACTE) is pleased to announce the 2015 recipients of its annual awards for best practice, professional achievement and writing and research. The following universities and individuals will be honored during AACTE's 67th Annual Meeting in Atlanta, February 27-March 1:
Pamela Grossman, dean of the Graduate School of Education at the University of Pennsylvania, will receive the Association's highest individual honor, the Edward C. Pomeroy Award for Outstanding Contributions to Teacher Education. One of the nation's foremost scholars of teaching and teacher education, Grossman is widely published and frequently collaborates with experts outside her discipline on cutting-edge, creative projects. She previously held endowed chairs at Stanford University and at the University of Washington.
Mary Brownell and Paul Sindelar of the University of Florida will receive the 2015 David G. Imig Award for Distinguished Achievement in Teacher Education. Brownell and Sindelar co-founded the University of Florida's Collaboration for Effective Educator Development, Accountability and Reform (CEEDAR) Center. The center provides technical assistance to states, addressing alignment of professional learning systems based on research, for developing teachers to prepare students with disabilities to achieve college- and career-ready standards. CEEDAR is a cooperative project of the university and the U.S. Department of Education's Office of Special Education Programs, which has already invested $25 million in the center.
Nel Noddings, Lee Jacks Professor of Education Emerita at Stanford University, will receive the 2015 AACTE Outstanding Book Award for "Education and Democracy in the 21st Century." The book brings John Dewey's work into the current era, exploring the relationship between schooling and civic polity in the age of "disruptions" in education. Noddings challenges educators to discard still-dominant "20th-century thinking" with its heavy-handed focus on accountability and competition, working instead toward larger aims of a cooperative global democracy.
Kavita Kapadia Matsko of the University of Chicago and Karen Hammerness of Bard College and the American Museum of Natural History will receive the 2015 AACTE Outstanding Journal of Teacher Education Article Award for their article "Unpacking the 'Urban' in Teacher Education: Making a Case for Context-Specific Preparation," published in the March/April 2014 issue of the journal. The authors examine how the University of Chicago's Urban Teacher Education Program specifically addresses the contextual features of a partner school district, providing detailed analysis of the program's investment in a pedagogy centered on "what it means to use knowledge about the environment affecting the child to tailor instruction—an important teaching tool for any setting."
David Stroupe, assistant professor of science education at Michigan State University, will receive the 2015 AACTE Outstanding Dissertation Award for his study "'Students Drive Where I Go Next': Ambitious Practice, Beginning Teacher Learning and Classroom Epistemic Communities," completed at the University of Washington under the advisement of Professor Mark Windschitl.
Kansas State University's College of Education will receive the 2015 AACTE Best Practice Award in Support of Global and International Teacher Education. A model for global diversity education throughout the institution, Kansas State wins praise in particular for its Teaching English as a Second Language "Go Teacher" program, an award-winning, multifaceted program of professional education for practicing Ecuadorian teachers, as well as for its community impact through its network of 22 professional development schools across three diverse districts.
Texas Christian University's College of Education will receive the 2015 AACTE Best Practice Award in Support of Multicultural Education and Diversity for its Early Childhood through Grade 6 program. This program prepares every teacher candidate for certification in English as a second language, bilingual or special education and boasts extensive study-abroad opportunities. It develops new teachers' understanding, confidence and commitment to work in urban elementary schools with diverse populations.
###
AACTE: The Leading Voice on Educator Preparation
The American Association of Colleges for Teacher Education is a national alliance of educator preparation programs dedicated to high-quality, evidence-based preparation that assures educators are ready to teach all learners on Day 1. AACTE leads the field in advocacy and capacity building by promoting innovation and effective practices as critical to reforming educator preparation. For more information, visit http://www.aacte.org.