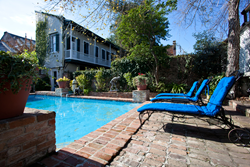 New Orleans, Louisiana (PRWEB) February 25, 2015
In a move that recognizes the flourishing growth and excitement surrounding the recent addition of NOLA Motorsports Park to the list of great New Orleans attractions, the management of the Park has announced a partnership with the New Orleans Hotel Collection.
To assist visitors in finding locally owned, authentically styled, well maintained and highly rated hotel accommodations, NOLA Motorsports Park has named the seven luxury properties of New Orleans Hotel Collection as the official recommended hotels for visitors to the Park.
The seven hotels of the collection: Bourbon Orleans, Dauphine Orleans, Audubon Cottages, Hotel Mazarin, Hotel Le Marais, The Whitney Hotel and The Crowne Plaza New Orleans Airport, are in locations that provide superb and easy access to the events at the Motorsports Park, as well as easy access to other New Orleans attractions and dining. Five of the seven are located in the historic French Quarter of the city. Special negotiated rates better than any online reservation site are available to those visiting the Park. Reservations may be made directly online at http://www.neworleanshotelcollection.com/nolamotor or by calling 855-790-6642 and asking for the NOLA Motorsports rate.
"We're delighted to partner with a locally owned and operated collection of very fine hotels for our visiting owners, spectators and racing teams," said Ms. Kristen Engeron, president and managing director of the Motorsports Park. "We have a wide array of events expected in the next year, including cart racing, automobile and tire testing, exotic car races, music festivals and, of course, the April dates for the Grand Prix of New Orleans, one of the races of the 2015 season for INDYCAR 500 as announced by the Lt. Governor of Louisiana in September."
Said Engeron, "Having a group of upscale, authentic New Orleans styled hotels to suggest to our guests goes hand in hand with our desire to feature the best of New Orleans, and partner with world class local facilities to do so."
"NOLA Motorsports Park will be changing the tourism landscape of the city and for Jefferson Parish, where it is located, for years to come," said Craig Hulford, area general manager for the New Orleans Hotel Collection. "As a regional hotel company with properties in Jefferson and downtown New Orleans, we're committed to working closely with the management of the Park to accommodate guests in hotels that authentically represent the real New Orleans."
About the New Orleans Hotel Collection
The New Orleans Hotel Collection is a group of seven fine independent locally owned hotels in the New Orleans metropolitan region owned by local investors. Comprised of the Bourbon Orleans, Dauphine Orleans, Hotel Mazarin, Whitney Hotel, Audubon Cottages, Crowne Plaza New Orleans Airport and Hotel Le Marais, these are boutique and small upscale meeting hotels in prime locations throughout the city. For more information, visit http://www.neworleanshotelcollection.com.