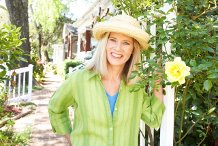 Ball Ground, Georgia (PRWEB) February 23, 2015
Jim Gibbs, president of Gibbs Gardens LLC, announced Erica Glasener will oversee marketing for his 300-acre, award-winning, world-class gardens. Located in Ball Ground, less than one hour's drive from Atlanta, Gibbs Gardens is considered "one of our regions most treasured landmarks," by garden author and renowned horticulture expert, Dr. Michael Dirr.
"Erica has been an important contributor to Gibbs Gardens for more than two years. Her blog about the Gardens is one of the most popular sections of our website," said Jim Gibbs. "She brings a wealth of horticultural knowledge to help our members and visitors learn about the Gardens. We will soon announce a number of seminars Erica will offer during the 2015 season about the various plant collections at Gibbs Gardens, including hydrangeas, rhododendrons, native plants and more. Each seminar is designed to appeal to all levels of gardening enthusiasts."
Glasener—horticulturist, former television gardening personality and well-known gardening author—is well prepared for her new position at one of the premiere public garden venues in the nation. She hosted A Gardener's Diary for 13 years on Home and Garden Television (HGTV) and co-authored the Georgia Gardener's Guide and Month-By-Month Gardening in Georgia.
Glasener served as education coordinator for the Scott Arboretum at Swarthmore College in Pennsylvania for 10 years. Her responsibilities included strategic planning, developing education programs and coordinating national symposia with other public gardens in the region. Ms. Glasener is a graduate of the University of Maryland where she studied horticulture.
In Atlanta, she serves on the board for the Georgia Perennial Plant Association, on the Advisory Board for Trees Atlanta and is a member of the Garden Writers Association.
Gibbs Gardens, one of only 25 "Display Gardens" in the nation certified by The American Daffodil Society, will open for its 2015 season on Saturday, February 28. Its largest display of daffodils in the nation blooms across more than 50 acres of gentle hillsides and sprawling valleys.
During the six-week daffodil season, an estimated 20 million daffodils usher in spring. The Gardens are open Tuesday through Sunday from February 28 through June 14, and Wednesday through Sunday from June 17 through December 15. For additional information, go to http://www.gibbsgardens.com or visit us on Facebook at Gibbs Gardens, Ball Ground, GA. Gibbs Gardens is located at 1987 Gibbs Drive, Ball Ground, GA, 30107. Telephone: 770-893-1881.