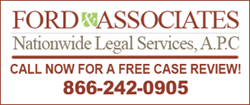 Ford & Associates is offering free case evaluations for those individuals and their loved ones who believe they have suffered damages from Benicar use, and encourage anyone with questions for a Benicar lawyer to contact the firm.
San Diego, CA (PRWEB) March 06, 2015
As the Mayo Clinic's 2012 published Benicar case study findings continue to be discussed, Ford & Associates Nationwide Legal Services, A.P.C., comments on these findings in wake of a January 2015 filed lawsuit: Verduzco v. Daiichi Sankyo, Inc., Case No. 3:15-cv-159, in US District Court, Northern District of California.
"In light of a recently filed lawsuit, Ford & Associates encourages those who have used Benicar to evaluate and explore the Mayo Clinic's Benicar case study findings purportedly linking Benicar use and the development of sprue-like enteropathy. We encourage those who are seeking to discuss these case findings to contact us directly to speak with a qualified Benicar lawyer."

Mateo Martinez, Ford & Associates Case Manager
Benicar (olmesartan medoxomil) and Benicar hct (olmesartan medoxomil hydrochlorothiazide) was approved by the FDA in April 2002 for the treatment of high blood pressure due to hypertension. Patients who have taken the drug have allegedly experienced sprue-like enteropathy which can cause serious gastrointestinal issues—including chronic diarrhea, rapid weight loss, abdominal pain, vomiting, and anemia.
In January, 2015, a lawsuit was filed by Louis Verduzco and Michael Ewald against Daiichi Sankyo, maker of Benicar, and Forest Laboratories, marketer of Benicar (Verduzco v. Daiichi Sankyo, Inc., Case No. 3:15-cv-159). According to court documents, both plaintiffs allegedly suffered from adverse health conditions including sprue-like enteropathy, lymphocytic colitis, microscopic colitis, chronic diarrhea, and dehydration from using the drug. The court documents also allege that neither the plaintiffs nor their physicians were aware of any adverse olmesartan side effects associated with use of the drug.
Ford & Associates finds it important to note that in June 2012, the report of alleged Benicar side effects prompted the Mayo Clinic to conduct a Benicar case study. The findings of this study were published as a case series in Mayo Clinic Proceedings, and documented physician's findings in their response to discontinuing Benicar use in patients experiencing sprue-like enteropathy. The 22 patients studied were suffering from unexplained chronic diarrhea, dehydration, and other gastrointestinal problems—and were allegedly taking Benicar to treat high blood pressure. The patients were asked by their physicians to discontinue their use of Benicar, and after discontinuing use, the patients' symptoms of gastrointestinal issues purportedly improved.*
In addition, Ford & Associates further notes that after multiple reports were received by the FDA's Adverse Event Reporting System (FAERS), the FDA found "clear evidence of an association between olmesartan medoxomil and sprue-like enteropathy." As a result, the FDA issued a Drug Safety Communication in July 2013 warning that Benicar "could cause severe intestinal damage known as sprue-like enteropathy." This prompted a required safety alert change to Benicar's labeling.**
mayoclinicproceedings.org/article/S0025-6196(12)00558-7/fulltext, Mayo Clinic, August 2012
** fda.gov/downloads/Drugs/DrugSafety/UCM359496.pdf, FDA, July 2013
About Ford & Associates Nationwide Legal Services, A.P.C.
Ford & Associates Nationwide Legal Services, A.P.C., is a San Diego based injury firm that fights aggressively for the rights of those who cannot fight for themselves. Each case is treated with unparalleled dedication, competence, and skill, and pursued to the fullest extent as allowed by law until a favorable outcome has been reached.
If you or a loved one believe that you have suffered adverse health conditions from using Benicar, and would like answers to Benicar lawsuit questions, contact Ford & Associates today at 1-866-242-0905 for a free, no-obligation case review.
Ford & Associates Nationwide Legal Services, A.P.C.
3555 4th Ave
San Diego, CA 92103
866-242-0905
ATTORNEY ADVERTISING. Ford & Associates Nationwide Legal Services, APC. This is an attorney advertisement. The information in this article is only provided for general information purposes. The information presented in this article and your viewing of the information in this article does not establish an attorney-client relationship. If you need legal assistance, we encourage you to call, write or email us. By contacting us, an attorney-client relationship has not been created. A formal attorney client-client relationship is not established until you have signed a retainer agreement and your case has been accepted. Please do not send any documents, evidence or any other information relating to your case until an attorney-client relationship has been established. Prior results do not guarantee a similar outcome with respect to any future matter. Please call or email our firm for a free, no obligation case evaluation.
Contact Information:
Mateo Martinez, Case Manager
Ford & Associates Nationwide Legal Services, A.P.C.
3555 4th Ave
San Diego, CA 92103
866-242-0905
drug-lawsuits.com