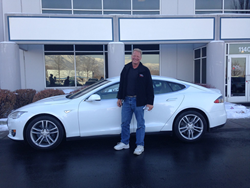 The Studies Weekly team is proud to be able to support technological advances and looks forward to a more sustainable and efficient way of life.
(PRWEB) February 21, 2015
In 1984, fourth grade teacher Paul Thompson found no state history textbook to use in his class. Faced with this challenge Paul, being an inventive man, decided to write a state history "textbook" in a weekly magazine format, and Studies Weekly was born.
Paul wasn't just inventive, he was a man who celebrated innovation. He often spoke of the latest technology of the day and, despite the restrictions of supporting a family on the salary of a teacher, was one of the first people to buy an Apple computer.
In keeping with the company spirit of support of technology and creativity CEO Ed Rickers recently purchased a Tesla electric car.
Tesla Motors is an American company that designs, manufactures and sells electric vehicles and components. They are on the forefront of electric car technology and are known for their innovation. With each new iteration, their vehicles have become increasingly affordable, and the company has come closer to fulfilling its mission: to accelerate the world's transition to sustainable transport.
The Studies Weekly team is proud to be able to support technological advances and looks forward to a more sustainable and efficient way of life.
About Studies Weekly and American Legacy Publishing:
Traditional textbooks cost up to $80 per student. By contrast, the price of Studies Weekly can be as low as $6 per student per year, or about $47 over the 8-year time frame in which textbooks are expected to be used by schools. Studies Weekly subscriptions also include access to estudiesweekly.com, an interactive experience that offers research-based tools for teachers and rich learning opportunities for students.
Nationwide, 30 percent of elementary schools have at least one classroom using Studies Weekly for their core materials in social studies and/or science. Studies Weekly Publishing continues to present these innovative instructional materials to boards of education for adoption in states where traditional textbooks have been the only option for decades.
"Too many schools are looking at their finances and seeing textbook costs as a major burden. This causes a lot of programs to atrophy as districts strive to save money," said Ed Rickers, president of Studies Weekly Publishing. "Studies Weekly offers a program with superior content that has saved some school districts millions of dollars. Because we have the flexibility of periodical publishing, Studies Weekly will always be relevant, timely and up to state education standards."
American Legacy Publishing enables teachers in every state and grade level to teach 100 percent of their grade level's state standards with minimum preparation and maximum success. The company publishes more than 70 unique classroom periodicals—more than Weekly Reader, Scholastic News, Time FOR Kids and Highlights Magazine combined. There are Studies Weekly publications for Social Studies, Math, and Science education that are tailored and relevant to the state in which the student lives. Printing in newspaper and magazine format allows for changes in state standards and frequent updates with world, national and state current events that relate to their curriculum.
For more information, please visit http://www.studiesweekly.com or view our product video. To order a free sample or schedule a presentation, please call 866-311-8734.