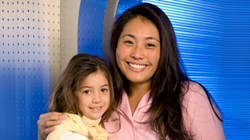 Ventura, California (PRWEB) February 22, 2015
In February, the American Dental Association promotes National Children's Dental Health Month in an effort to elevate awareness about the importance of good dental care. The message reaches millions of families in communities throughout the nation.
To celebrate National Children's Dental Health Month locally, Oxnard Childrens Dental Group and the Tooth Fairy will be visiting Gull Wings Children's Museum and local schools throughout the month of February. The costumed character will be greeting children and providing educational information on how to prevent tooth decay, how to fight plaque, and ways to form good dental habits.
Talking to the Tooth Fairy in a kid-friendly setting about good dental care provides an opportunity for children to ask questions in a fun and participatory manner. The Tooth Fairy will also be giving out free toothbrushes and other special items to the children. Developing good oral healthcare habits at an early age and having regular dental visits helps children get a great start on a lifetime of smiles.
About Oxnard Childrens Dental Group
Oxnard Children's Dental Group is a pediatric dental practice with offices serving families in Oxnard and the surrounding communities of River Park, Port Hueneme, Fillmore, Santa Paula, Ventura, Saticoy, El Rio and Oak View. Oxnard dentists, Dr. Catherine Chien and Dr. Betsy Kaplan are specialists with advanced degrees, training and expertise in treating the unique dental needs of infants, children and teenagers. They and their staff of professionals are adept at understanding the special needs, challenges and concerns of children. Specializing in children since 1977, Childrens Dental Group has been honored with the distinction of being the first board certified specialists in pediatric dentistry in Ventura County. As a longtime Oxnard dental group, the practice offers the full range of dental services for children including infant dentist care, dental insurance for children, children and teen hygiene, trauma, nitrous oxide, fillings, sealants, thumb, crowns, x-rays, emergency dental care, sedation dentistry, amalgam fillings, teeth cleaning, teeth whitening, IV sedation, preventive care, composite fillings, dental sealants and oral sedation.