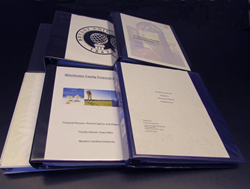 We feel that it is an excellent way for a young potential consultant to learn how to prepare a plan and approach a client or prospect...Ed Morrow, RFC and IARFC CEO
Middletown, OH (PRWEB) February 23, 2015
The National Financial Plan Competition is organized through the IARFC for undergraduate students in a curriculum related to Financial Services. Initially, participants were given a fictional case study of a family with an overview of their financial picture. From that, they were asked to produce a financial plan with recommendations for current and future action. Completed plans were then sent to the IARFC headquarters where six were chosen to compete in the Semi-Finals.
The IARFC feels this competition gives students an exercise in real world practice – that of analyzing a client's situation and critically thinking a course of action to recommend. In many cases, professors have used this exercise as part of their curriculum.
This year's Semi Finalist team members are: David Ferraro and Staci Rezendes (team 1) and Nicholas Zacchilli (team 2) from Bryant University, Smithfield, RI – Faculty Advisor Mara L. Derderian, RFC®; Connor Howard from Shepherd University, Shepherdstown, WV – Faculty Advisor Dr. Nicholas A. Pologeorgis RFC®; Erik Ott and Zachery Perkins from Virginia Commonwealth University, Richmond, VA – Faculty Advisor John P. McFarland; Richard Sigmon and Megan Cherry from Western Carolina University, Cullowhee, NC – Faculty Advisor Dr. Grace C. Allen; Kristin Cranford and Victoria Davis from Winthrop University, Rock Hill, SC – Faculty Advisor, Dr. Philip Gibson.
Following the selection of three finalists, the teams will head toward Charlotte on April 29th and 30th for a live presentation of their Plan in front of an audience of financial services professionals at the Charlotte Motor Speedway Club. Finalists will also have the opportunity to attend the IARFC Business Owner Consulting Workshop, a tour of the Speedway and a dinner banquet hosted at this premier regional venue.
"We feel that it is an excellent way for a young potential consultant to learn how to prepare a plan and approach a client or prospect," said Ed Morrow, CEO and Chairman of the IARFC. "This experience is invaluable as they start their professional careers."
Corporate Sponsors of this year's competition are Cetera Advisors and Royal Alliance. A complete list of Individual Sponsors at various levels can be found on the IARFC website. Anyone who wishes to be a judge for the competition and join in the activities in Charlotte can contact Amy Primeau, ext 307 or visit the IARFC website for more information.