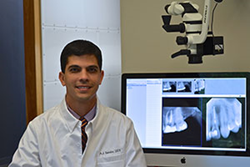 Jacksonville, FL (PRWEB) February 19, 2015
Jacksonville, FL Endodontist, Dr. Allan Sandor honors Gum Disease Awareness Month this February, by educating area residents on gum disease and the importance of overall oral health. Gum disease is a serious bacterial infection that, if left untreated, can lead to a variety of dental health issues.
With his special training and advanced skills in performing endodontic procedures, Dr. Sandor solves a special kind of dental problem. When an infection of the tooth pulp is detected, urgent treatment is necessary to prevent the injection from spreading further. Dr. Sandor is skilled in performing root canal procedures, which can help save the tooth and provide improved oral health for the patient.
A cracked tooth in Jacksonville, FL can happen to anyone at any time. Whether chewing food, playing sports, or even sleeping, dental problems can strike surprisingly quickly. Sometimes the crack is barely noticeable, other time the body of the tooth fractures dramatically. To save the tooth at that point a root canal procedure is urgently needed.
For patients living with a cracked tooth in Jacksonville, early treatment is also recommend. If left alone, complications with the damaged tooth can be painful and can lead to infection of the pulp. Causes of damage to the inner structure and roots of the teeth include:

Decay reaching deep down into the tooth
Injury or hard impact to the teeth
Grinding or clenching teeth
Infection
Advanced periodontitis
Whatever the reason for the damage, a root canal is a specialized process of fixing the broken tooth from the inside. Fortunately, treatment with Dr. Sandor is generally quick and can be painless with new advanced technologies. Using special tools and drawing on his advanced training in endodontics, Dr. Sandor clears a canal in the center of the root space. He then fills and seals the area thoroughly. The patient's regular dentist typically creates a crown to fill the space of the tooth that received the root procedure.
Gum Disease Awareness Month in February is a great time to get the facts about periodontal disease and take action for improved oral health that contributes to overall health. Whatever the reason, a cracked tooth in Jacksonville, FL requires urgent attention from an Endodontist and root canal specialist. Call (904) 302-9812 to schedule a consultation or visit Dr. Sandor's website at http://www.endodontistjacksonville.com.
About the Doctor
Sandor Endodontics is an endodontic practice offering patients modern treatment in performing root canals to save teeth in Jacksonville, FL. Dr. Allan Sandor completed his undergraduate studies at the University of Florida and received his dental degree from Marquette University, College of Dentistry in Milwaukee, WI. He was a dental officer in the United States Navy and completed a one year Advanced Education in General Dentistry at the Marine Corps Recruit Depot on Paris Island, SC. He was selected within the Navy for training in Endodontics and received his certificate from the University of Iowa, College of Dentistry. To learn more about Dr. Sandor, a published Endodontist, visit his website at http://www.endodontistjacksonville.com and call (904) 302-9812.