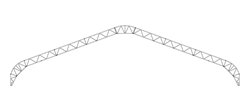 Dallas, TX (PRWEB) February 20, 2015
Today Guard-All Building Solutions unveiled their Guardian Series, a new modular component tension fabric building design. The Guardian Series is an innovative new tension fabric building made up of modular components that address roof slope, leg height and building size.
The versatile modular component design of the Guardian Series will allow Guard-All's customers to quickly configure the perfect tension fabric building to meet their needs. Variable keystone and corner components allow for a selection of roof slopes from 15 to 35 degrees to accommodate snow load requirements, or interior height clearance requirements. A choice of truss legs are available in three heights, 13, 18 and 23 feet, to create the ideal sidewall clearance height. Truss components can be arranged to create buildings from 30 feet to over 200 feet wide. The Guardian Series fabricated trusses are forged from precision welded galvanized carbon steel tubes. Fabric membrane panels are manufactured using an engineered high density polyethylene.
Guard-All's engineers focused on quick deployment characteristics and ease of installation while developing the Guardian Series. The modular component concept was developed as a means to accelerate the manufacturing process with common repeatable components. Building installation is easier than ever with the Guardian's easy bolt connections and simple slide in pre-tensioned waterproof roof panels.
About Guard-All Building Solutions
Guard-All Building Solutions manufactures an innovative selection of Next Generation Fabric Buildings. The Dallas, TX based woman-owned small business produces highly engineered steel-framed fabric buildings, ranging from massive clear span structures to cost-effective temporary buildings. The modular nature of the company's tension fabric buildings allows for quick installation, care-free maintenance, easy expansion and the ability to reach any length required. The company's structures are in use across North America by a wide variety of markets; including industrial, commercial, municipal and agricultural.