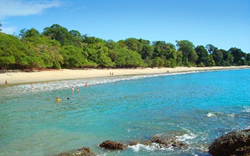 To think, out of all of the beautiful beaches in the world, we are considered by travelers to have one that ranks within the top 20? That recognition is beyond an honor.
(PRWEB) February 20, 2015
TripAdvisor, the social travel behemoth, recently released their "2015 Travelers' Choice Award Winners," which includes top resorts, beaches, destinations, restaurants, and activities. Tulemar Resort is proud to see that the beach of its local town, Manuel Antonio, Costa Rica, jumped into the top 20 of TripAdvisor's "Travelers' Choice Top 25 beaches in the world," ranking 17th in the world in 2015. With soft white sand, and water that averages 79 to 86 degrees Fahrenheit (26 to 30 degrees celsius), Playa Manuel Antonio, was one of only two Central American beaches and the only beach in Costa Rica to be mentioned with the prestigious list.
Tulemar spokesperson and a fellow beach-aficionado, Dave Houck, was more than pleased with the the results, saying, "To think, out of all of the beautiful beaches in the world, we are considered by travelers to have one that ranks within the top 20? That recognition is beyond an honor." But Houck was not too shy to make a case for his town's beach, adding, "I think it really makes sense that TripAdvisor travelers found it to be such a great beach though. Our pristine beach always has so much to offer. From many fabulous choices in dining, to surfing lessons, parasailing, paddleboarding, beach volleyball tournaments, boogie boarding, to just good old sunbathing in one of the beach's many secluded coves, the beach seems to have it all. What really sets the beach apart from others, however, is the Manuel Antonio National Park that surrounds it."
Many visitors come to Manuel Antonio for the national park, which offers jungle trails and hidden coves. The park, which is small for most national park standards (3 sq mi), is unmatched in its biodiversity. Houck highlighted and summed up that biodiversity as he explained an experience of going from sitting on the beach to hiking the park's trails. "If one so pleases, they can get up from their beach towel and tramp through the jungle trails to get a chance at seeing the 109 species of mammals, 184 species of birds, both type of sloths, reptiles, and three of the four monkeys native to Costa Rica—the white-faced capuchin, the mantled howler, and the endangered Central American squirrel monkey, which is only found in the Manuel Antonio area. And if that hike is too much to ask on a lazy beach day, one can simply stay put and hope to catch a glimpse of dolphins, or in the fall time (August to November) migrating whales."
Baia do Sancho in Brazil was voted the top beach in the world for the second year in a row, but Houck seemed to think Playa Manuel Antonio soon would not be far behind as it continues to move up through the ranks. "As more people are drawn to Costa Rica, and begin to hear how unique of place Manuel Antonio is with all it offers, I think we will see the travelers of TripAdvisor voting it higher and higher in the years to come."