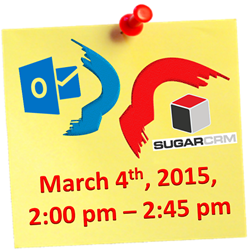 "BrainLink is fast, and it doesn't interrupt your work with unnecessary dialog boxes," - Kevin Cook, Senior VP of Sales at BrainSell.
Topsfield, MA (PRWEB) February 20, 2015
Since BrainLink was launched in July, 2014, SugarCRM users have finally found a customizable outlook plugin that syncs all custom fields and team-based roles in Sugar. BrainLink 2.0 was just released this past month, and this version is the most exciting yet. As a result, they will compare BrainLink 2.0 to Sugar's out-of-the-box plugin on March 4th, 2015, 2:00 pm – 2:45 pm EST.
BrainLink brings an entire array of new features into SugarCRM, allowing users to spend much more time in Outlook and much less time entering leads, contacts and accounts in Sugar.
Join BrainSell's webinar here:
http://nrforms.brainsell.net/BrainLink_SugarCRM_Outlook_Plugin_Webinar_March_4th
Who should attend this webinar:
Anyone who wants to stop wasting time moving back and forth from Sugar to Outlook or duplicating their efforts by importing data manually.
"BrainLink is fast, and it doesn't interrupt your work with unnecessary dialog boxes," said Kevin Cook, senior VP of sales at BrainSell. "I'm pleased anytime I can get more options than what I typically have in Sugar."
One of the biggest requirements for prospective CRM buyers everywhere is that the platform they choose must integrate with their email client. Being that Outlook is still one of the most popular clients available, BrainLink fills a huge void for prospective buyers, to the point where it becomes a make-or-break selling point.
For more information on the upcoming webinar, view BrainSell's blog article here:
http://www.brainsell.net/blog/2015/02/brainlink-sugarcrm-outlook-plugin-webinar-march-4th/
BrainSell was recently named a SugarCRM Elite Partner (the highest partnership level available), and BrainLink is the first product developed by BrainSell exclusively for Sugar. BrainSell's Marketing Manager, Jordan Fraczek, sees even more potential to impact Sugar's client base at a much wider level. "We can't be everybody's partner," said Fraczek. "But being able to hear more feedback from a larger variety of Sugar's clients through BrainLink gives us more ammunition to better assist our existing and future clientele."
BrainSell aims to explain why BrainLink is a game changer for all existing and prospective Sugar users. As a Sugar power user, Fridell will detail what makes BrainLink superior to Sugar's out-of-the-box plugin for Outlook.
During the webinar, BrainSell will detail:

The ability to use custom fields
Team-based roles
Full, bi-directional sync of all modules
Ability to work offline
Archiving emails upon sending
Syncing as much or as little information as you'd like with Sugar
Apart from SugarCRM related consulting and services, BrainSell is a full-service ERP consultant and has relationships with NetSuite, Sage, Quickbooks and Microsoft.
In addition to SugarCRM and ERP, BrainSell is also certified in the implementation of these additional CRM offerings:

Salesforce
Microsoft Dynamics CRM
Infor CRM
Act! CRM
About BrainSell
BrainSell is a business solutions company that is dedicated to helping businesses grow, create a delighted customer base and achieve grand success. BrainSell provides comprehensive ERP, CRM, and marketing automation solutions and services, including training, implementation and software development. Founded in 1994 and headquartered in Topsfield, Massachusetts, BrainSell continues to grow in product knowledge and offerings.