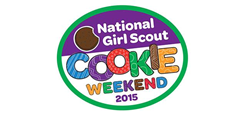 "Cookies mean confidence for Girl Scouts."
Pittsburgh, Pa. (PRWEB) February 24, 2015
This February 27, Girl Scouts Western Pennsylvania (GSWPA), along with its sister councils across the country, will participate in National Girl Scout Cookie Weekend, a celebration of all the fun and excitement girls have selling Girl Scout Cookies.
National Girl Scout Cookie Weekend will give local Girl Scouts a chance to show off their cookie-selling skills by participating in booth sales throughout downtown Pittsburgh on Friday, Feb. 27 at these locations, 11 am.-2 p.m.:

Three Gateway Center, 401 Liberty Ave., lobby
Four Gateway Center, 444 Liberty Ave., lobby
Gateway Café, 603 Stanwix St., elevators 1-4
Fifth Avenue Place, 120 Fifth Ave.
Point Park University, 201 Wood St.
City Centre Tower, 650 Smithfield
200 PPG Place, level 2
U.S Steel Building, 600 Grant St.
GSWPA Pittsburgh Office, 30 Isabella St.
Starting with National Girl Scout Cookie Weekend and continuing at booth sales throughout western Pennsylvania until March 22, cookie customers will also get the chance to try Rah-Rah Raisins and gluten-free Toffee-tastic, the new cookies making their debut during the 2015 cookie season.
Rah-Rah Raisins are hearty oatmeal cookies with raisins and Greek yogurt chips.
Toffee-tastic Girl Scout Cookies are crispy, buttery cookies packed with golden toffee bits.
Legendary classics Thin Mints, Samoas, Tagalongs, Do-si-dos, Trefoils, and Savannah Smiles will also be available. Visit girlscoutcookies.org to find Girl Scout Cookie booth sales in the Pittsburgh region.
Through the Cookie Program's five skills—goal setting, decision making, money management, people skills and business ethics—each amazing young #cookieboss develops creative and resourceful ways to sell cookies. And the more cookies girls sell, the more money they have to invest in community service projects, learning experiences, and travel opportunities.
"Cookies mean confidence for Girl Scouts," said Patricia A. Burkart, CEO of Girl Scouts Western Pennsylvania. "Every time you buy a box, you show a Girl Scout that she can reach her goals."
"For you it's a box of delicious cookies," she added. "For the girl, it's her first taste of success in business."
One hundred percent of the net revenue raised through Girl Scout Cookie sales in the Pittsburgh area stays with GSWPA and its troops, so customers who purchase Girl Scout Cookies are not only getting a delicious treat—they are also making an important investment in their communities.
"National Girl Scout Cookie Weekend is one of the most exciting events on the Girl Scout calendar," said Anna Maria Chávez, CEO of Girl Scouts of the USA. "It's our opportunity to speak with one unified voice and tell the story of the Girl Scout Cookie Program, and everything it does to help prepare the next generation of female leaders. To help girls unlock their own leadership potential and realize the difference they can make in this world is at the heart of the Girl Scout mission. For nearly a century, our cookie program has been one of the most powerful and successful tools in transforming girls into leaders who make a positive impact on their communities."
About Girl Scouts
Founded in 1912, Girl Scouts of the USA is the preeminent leadership experience for girls and is the leading authority on girls' healthy development. Girl Scouts builds girls of courage, confidence and character, who make the world a better place. The 2.8-million-member organization serves girls from every corner of the United States and its territories. Girl Scouts of the USA also serves American girls and their classmates attending American or international schools overseas in 90 countries. For more information on how to join, volunteer, reconnect or donate to Girl Scouts Western Pennsylvania, call 1-800-248-3355 or visit gswpa.org.