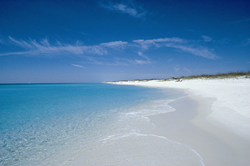 What sets us apart from other top beaches is our unique history, diverse culture, and Pensacola's award winning culinary scene
Pensacola, Fla. (PRWEB) February 19, 2015
It's been a big week for the beaches in the Pensacola Bay Area as two major accolades rolled in from the world's largest travel site, TripAdvisor.
On Wednesday, February 18, TripAdvisor named Pensacola Beach one of the "Top 25 Beaches in the United States." Out of the 25 beaches listed, Pensacola Beach won the No. 5 spot, right behind Wai'anapanapa State Park in Hawaii.
Pensacola Beach was one of three Florida beaches in the top five, confirming the state's beaches are some of the best when you ask those who visit. TripAdvisor compiled the list based on visitor reviews over the past 12 months.
"Fabulous sugar sand beaches, family-friendly atmosphere, and southern hospitality...what more could you ask for," commented one reviewer rating Pensacola Beach.
TripAdvisor also named Pensacola as a top "beach house" destination in a TripIdeas feature released on February 12. The feature states, "If you're looking for beach house rentals near some great Florida beaches without the mega-resort or theme park atmosphere, Pensacola is just the place for your perfect escape."
This accolade came, again, from customer reviews posted on the website along with data from page views and the number of vacation homes booked, according to the TripAdvisor team.
"Visitors to our community are discovering what we've known for years. Our sugar-white sands combined with emerald-green waters provide a great location for relaxation. What really sets us apart from other top beaches is our unique history, diverse culture, and our award-winning culinary scene," says Steve Hayes, President of Visit Pensacola.
Sugar white sands and emerald green waters aren't just exclusive to Pensacola Beach. Perdido Key and Johnson Beach within the Gulf Islands National Seashore have been nationally recognized by TripAdvisor and Dr. Beach and exhibit the same atmosphere and character, providing visitors with a variety of options for their vacation experience.
These latest accolades from TripAdvisor join a host of others in recent weeks, recognizing Pensacola for top hotels, top venues, and top attractions. Fodor's Go List 2015 listed the Pensacola Bay Area as one of the top destinations that "should be on every traveler's radar in 2015."
###
About Visit Pensacola
Visit Pensacola leads the effort of economic development through tourism in Escambia County. Comprised of over 150 member businesses, Visit Pensacola's mission is to position the Pensacola Bay Area as a premier year-round travel destination through tourism marketing, communications, meetings and conventions, reunions and group tour initiatives. For more information about Visit Pensacola, call 1-800-874-1234 (toll-free) or go to VisitPensacola.com.