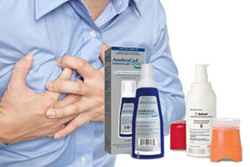 To learn about filing a testosterone lawsuit contact the Oliver Law Group P.C. for your free testosterone lawsuit case review by calling toll free 800-939-7878 today or visit www.legalactionnow.com
Columbus, OH (PRWEB) February 20, 2015
The Oliver Law Group represents purported victims of harmful drugs from all over the country and notes that Testosterone lawsuits filed on behalf of men who allegedly developed cardiovascular problems due to the use of prescription low testosterone therapies, are moving forward in federal multidistrict litigation currently underway in U.S. District Court for the Northern District of Illinois under U.S. District Judge Matthew F. Kennelly, Oliver Law Group reports. The firm further notes, through court documents, the Case Management Conference is scheduled to convene today, February 20, at 2:30 p.m., to discuss any important developments in the litigation. (In re: Testosterone Replacement Therapy Product Liability Litigation - MDL No. 2545)
The Oliver Law Group states, "We very pleased to see the litigation move forward as the attorneys await the Case Management Conference, where the most current information regarding the cases will most likely be discussed." The Oliver Law Group represents those harmed by defective drugs and devices, and offers free case evaluations to men who believe they have been injured by low testosterone therapies by calling 1-800-939-7878 or visiting http://www.legalaction.com.
Current Testosterone Lawsuits
The Oliver Law Group has learned through court records that over 1,000 testosterone treatment lawsuits pending in the testosterone MDL all allege similar questions of fact. "The firm has noticed an increase in lawsuits filed against testosterone drug manufacturers since the U.S. Food and Drug Administration announced that it had begun an investigation regarding the serious cardiovascular events associated with low testosterone therapies in men in January 2014. These cardiovascular events include heart attack, stroke, and even death." - Oliver Law Group [fda.gov/Drugs/DrugSafety/ucm383904.htm].
The attorneys note that in September 2014, a U.S. Food and Drug Administration advisory panel voted 20 to 1 in favor of recommending that low testosterone therapies be used only in men who have a specific medical issue that impairs testicular function. The advisory panel also recommended that low testosterone therapy drug makers be required to assess the cardiovascular risks associated with testosterone therapy in men who suffer normal age related decreased testosterone levels. [reuters.com/article/2014/09/17/us-usa-health-testosterone-idUSKBN0HC2C320140917]
Furthermore, court documents show that the testosterone lawsuits pending in Illinois federal court have been filed by men or their loved ones after the men allegedly suffered serious cardiovascular problems including deep vein thrombosis, stroke, heart attack, pulmonary embolism and other potentially life-threatening injuries due to the use of prescription low testosterone therapy. The Low-T lawsuits contend that low testosterone therapy manufacturers were aware of the risks of serious cardiovascular side effects associated with the hormone therapy, and that the low testosterone drug makers hid these serious risks and failed to warn patients and their physicians about these potentially life threatening risks. The firm further states, "That the consolidation of all the lawsuits into one common court allows for a more cohesive litigation process".
The Oliver Law Group has extensive experience fighting for those who have been harmed by defective drugs and faulty medical devices. Men who have experienced a serious cardiovascular event and believe it was caused by the use of low testosterone therapies may be eligible for financial compensation. To learn more about your rights and how to file a testosterone therapy lawsuit, call the Oliver Law Group at 800-939-7878 now, or visit our website at LegalActionNow.com
About The Oliver Law Group P.C. And Filing A Testosterone Lawsuit
The Oliver Law Group P.C. is a different kind of law firm. One that focuses on the needs of the injured first. A compassionate law firm dedicated to fighting for the rights of victims and their families, and doing everything necessary to ensure those rights.
The experience of a large firm. The 1-on-1 dedication of a small firm. A reputation built on trust.
Experience. Dedication. Trust. The Oliver Law Group P.C.
If you would like to learn more about filing a testosterone lawsuit, turn to the law firm with the Experience, Dedication, and Trust you deserve. Contact The Oliver Law Group P.C. for your free case review by calling toll free 800-939-7878 today.