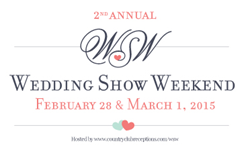 Los Angeles, CA (PRWEB) February 20, 2015
At the end of February, Country Club Receptions is hosting its second annual Wedding Show Weekend, which gives brides-to-be and their fiancés an opportunity to meet wedding event planners and coordinators, try samples from Country Club Receptions' preferred wedding vendors, and even win wedding-related prizes. During this year's event, three-hour shows will take place at more than 35 golf courses and country clubs across the U.S. on February 28 and March 1; states with participating venues include California, New Mexico, Washington, Texas, Oregon, Tennessee, Georgia, and New Jersey. Over the course of Wedding Show Weekend, Country Club Receptions will give away $30,000 in prizes; two individuals will win $10,000 sweepstakes prizes, which can be applied toward a dream wedding at any venue in the Country Club Receptions network, and Country Club Receptions will also give away $10,000 in smaller prizes. Attendance at all of the Wedding Show Weekend events is free.
This year, Wedding Show Weekend will begin with two pre-party kickoff events, held at Lakewood Country Club and The Oregon Country Club. Both events will take place on February 27 from 7:00 to 10:00 p.m. These kickoff events will allow attendees to meet various wedding experts and mingle with other couples, plus enjoy samples from local approved vendors. Like the shows on February 28 and March 1, the pre-party events are free; however, space is limited, so people who are interested in attending the kickoff or any of the weekend shows are encouraged to register early to reserve their spots. Brides-to-be and their fiancés can register for the pre-party events and weekend shows, enter the $10,000 sweepstakes prize giveaways, or get more information about Wedding Show Weekend by visiting the Country Club Receptions website.
About Country Club Receptions
Country Club Receptions (CCR) makes planning a dream wedding easier by helping engaged couples find beautiful and reputable venues. CCR is affiliated with an extensive network of golf clubs and country clubs situated in 26 locations across the U.S. In addition to identifying unforgettable venues, Country Club Receptions helps brides-to-be and their fiancés find leading vendors in various specialties, including florists, photographers, officiants, disc jockeys, and valet services. Planning for a perfect wedding and related expenses is also simple with Country Club Receptions' online calculating tool, including The Dream Wedding Calculator at dreamweddingcalculator.com. To learn more about Country Club Receptions, please visit http://www.countryclubreceptions.com.