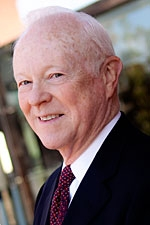 His expertise will help us serve our clients best.
Carlsbad, CA (PRWEB) February 23, 2015
Government interference has strangled real estate deals and developments, and at times has hurt San Diego's recovering economy. Jack H. Dimond (sic). has joined The ARAMCO Group, Carlsbad's preeminent mortgage company after a 48 year career making sure governments—municipal to federal—do not stop the entrepreneurs from making jobs and building homes for San Diego
Mr. Dimond brings his experience to Carlsbad, North County, and San Diego at large. Federal courts of appeals affirmed steamrolling the whole city government of Boca Raton, FL after his team completely proved the city's ballot initiatives about population control were "irrational."
"It was prototypical nimbyism (not in my back yard)," Mr. Dimond said. "It was the culture these people had, and it caused dangerous, unprogressive things to happen." Mr. Dimond found the 1979 appeals court decision "satisfying."
"I wish irrationality was all we had to prove every time during our motions to halt government overreach. Unfortunately it is not always that straight forward."
A California native, Mr. Dimond has been part of teams that have built entire communities, and major parts of cities—including Village Park in Encinitas—from raw land. He has physically built the homes and, as spoken of above, defended his projects from interfering lawsuits brought by plaintiffs including most every federal agency and the largest environmental groups in the USA.
Mehran Aram, President of the ARAMCO Group said, "I love this industry. I recognize the same verve in Mr. Dimond. This is why we are so excited to make him part of the team here, as his expertise will help us serve our clients best."
Along with his distinguished career in Real Estate, Mr. Dimond, Born 1936, started acting at the age of five. Twists and turns made him part of the original Broadway cast of Peter Pan along side Boris Karloff. Hollywood thrust him onto screens — big screens and silver screens alike. Mr. Dimond started attending MIT at age 15 in hopes of being an Astrophysicist during his east coast-based early life. His time in L.A. allowed him to stop investigating the physics of stars but the metaphysics of what is beyond them: Mr. Dimond graduated USC with a degree in philosophy and a minor in architecture.
He is married to Janet "Jan" Hall of La Mesa. They celebrated their 45th wedding anniversary on Valentine's Day, 2015. He served in the US Navy as a Flag Lieutenant for a destroyer division in the Pacific Fleet.
The ARAMCO Group is excited to welcome such a maverick to the team. He will help San Diego's seniors—a bounteous, vital and influential section of our population—as they secure peace of mind and wonderful retirements.
The ARAMCO Group is a consortium of real estate financing companies that is committed to serving the needs of its customers. ARAMCO Mortgage specializes in providing mortgage financing for home buyers and for those seeking to refinance their existing home loans. ARAMCO Financial specializes in carrying out government insured reverse mortgages for seniors. ARAMCO Properties is the Real-Estate division of The ARAMCO Group and represents buyers and sellers as well as coordinating short-sales and REOs. Mehran Aram, the president of The ARAMCO Group, has been active in the mortgage industry since 1994; His analysis can be found in newspapers and on radio and TV stations. He is one of less than 100 nationally Certified Reverse Mortgage Professionals. Email info(at)ARAMCO(dot)biz or call (888) 600-1130 for more information.