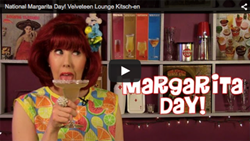 (PRWEB) February 20, 2015
Velveteen Lounge Kitsch-en, the weekly comedic DIY digital series inspired by "happy homemakers of the past" and created by Kelly Camille Patterson and Paul Spencer, celebrates National Margarita Day (February 22) with a new episode filled with delicious recipes based on the iconic cocktail, along with fun facts about the mighty Margarita.
"A Margarita is the perfect choice when you need an escape from winter's gloom, or simply a bad day," says Kelly Camille Patterson, Host and Executive Producer of Velveteen Lounge Kitsch-en. "It's an instant vacation in a glass!"
Velveteen Lounge Kitsch-en (VLK) serves up the celebration in every day with recipes, tips and plenty of booze and kitsch with new episodes every Tuesday morning, along with the occasional cocktail-related music video. Recently featured on TVGuide.com as a daily "Top Video" for their "National Potato Chip Day" episode, VLK is fast becoming the go-to series for all of your festive food and beverage needs. Connect with the Velveteen Lounge Kitsch-en on social media: Twitter, Facebook, YouTube, Instagram, Pinterest.
"The Margarita is a classic because it is the New World evolution of the Sidecar, substituting tequila for cognac and lime for lemon. New, robust flavors in perfect harmony," says Dave "Cachaça Dave" Catania, Spirits Category Manager at Boston-based Burke Distributing Corp., serving the liquor industry since 1935.
Link:
For all press inquiries contact: brian(at)brianroddaconsulting(dot)com
About Velveteen Lounge Kitsch-en
From Creators Kelly Camille Patterson and Paul Spencer comes Velveteen Lounge Kitsch-en, the DIY weekly digital series about an energetic hostess (Kelly Camille Patterson) straight out of the Eisenhower era who battles the forces of humorless lifestyle mavens by serving up festive and easy recipes and home entertaining tips on a budget. It's Pee Wee's Playhouse meets the Cooking Channel, with a little I Love Lucy and Stepford Wives thrown in for good measure. And booze. Lots of booze. Follow the show weekly at: https://www.youtube.com/user/VelveteenLounge