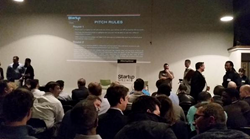 I don't think we could have had a better outcome for this event. Our hope is for this to be a catalyst in the region, and build upon that success.
Charlotte, NC (PRWEB) February 20, 2015
Startup Grind Charlotte, part of the global startup community educating, inspiring and connecting entrepreneurs, partnered with early-stage venture capital firm SierraMaya360 to deliver resources to local startup companies enhancing their growth and success through a successful meetup and pitch event. The evening was intended to award the winning company a chance for up to $250,000 in investment, but resulted in six entrepreneurs winning the opportunity to land a total of $1.5 million.
The event kicked off with a fireside chat with Amish Shah and Startup Grind Charlotte host Jeff Brokaw, sharing insight into his life's journey coming from humble beginnings in New Jersey to accomplished entrepreneur, advisor and investor in high tech, as well as famed rise into venture capital. After questions from the audience, over 20 local Charlotte entrepreneurs gave 60 second pitches, taking aim at the opportunity to receive up to $250,000 in investment. Companies presented to a panel of judges comprised of Amish Shah alongside Edison Medical's President Robert Grajewski and EVP of Business Development Kenneth Paulus.
"We wanted to do something unique to create a buzz around the Charlotte startup scene," said Amish Shah, Managing Partner of SierraMaya360. "Holding a pitch contest with the potential for funding, something lacking in the region, with an open forum for anyone to participate was the perfect way to do that. We are in the unique position of being the only national venture capital firm in Charlotte, and we wanted to give this community the same access to our capital, network and experience as we provide for New York, Boston, the Bay Area or Los Angeles."
Six companies were selected to give followup presentations. After a round of three minute pitches and Q&A from the panel, all six companies were selected as winners, each securing a subsequent audience with the panel to present expanded presentations and the opportunity to receive investment offers totaling up to $1.5 million.
"We're pleased that SierraMaya360 and Startup Grind judges considered Cathedral Leasing worthy of closer evaluation," said Doug Speight, President and CEO of the leasing world marketplace, on making it to the finalists' round. "The SierraMaya360 Startup Grind pitch event enabled us to articulate Cathedral's value as a multi-lender marketplace for the $827 billion equipment leasing industry."
"We were extremely excited to participate in the Startup Grind Pitch Competition," said Charlie Mulligan, founder of BrewPublik, a local Charlotte based craft beer subscription service, and one of the 6 finalists in the pitch competition. "The audience was fantastic, and we were thrilled to be selected as finalists. We can't wait to have further conversations with each of the judges as BrewPublik grows."
Other winning companies who received further invitation include Nimbus, Collar Perfect, Evolution Ortho and Clinician Reports. Additionally, two other companies in the medical tech space were invited for future conversation.
Startup Grind is host to monthly events in more than 150 cities and 65 countries featuring successful local founders, innovators, educators and investors who share personal stories and lessons learned on the road to building great companies. Charlotte's local chapter is hosted by veteran web developer, digital marketer and founder of equity crowdfunding platform AppVested, Jeff Brokaw.
"We had an unbelievable turnout for the event, and the quality of the pitches was absolutely amazing," says Brokaw of the evening. "The judges had a very tough time even narrowing it down to the final 6. When the decision was made to give all 6 finalists the opportunity for $250K, I was floored…. Something like this has never been done in Charlotte. I can't say enough about how great this is for the local startup community and how honored I am to be a part of it"
The success of the meetup shed light upon a promising entrepreneurial community. With a notable turnout of pitching companies, entrepreneurs, startup community leaders and other attendees, the successful turnout and buzz around the event has led to conversation about continued events and partnerships taking aim at bolstering the startup and entrepreneurial communities of the Charlotte region and the southeast.
"Our expectations for the companies were far exceeded. We had such a difficult time selecting one winner that we decided to give all six finalists a chance," said Shah. "Between the caliber of companies and Startup Grind Charlotte, Enventys, Edison Nation and Edison Medical all participating in the action, I don't think we could have had a better outcome for this event. Our hope is for this to be a catalyst in the region, and build upon that success."
About SierraMaya360
SierraMaya360 is a nationally recognized and ranked venture capital firm bridging the gap between Hollywood and technology. With offices in Charlotte, Boston, San Francisco and Los Angeles, the firm focuses on early-stage companies, investing in cutting-edge technology including mobile, e-commerce, media, entertainment, gaming, healthcare IT, software and consumer goods startups. They deploy a 360 Approach to startup investment, surrounding companies with the resources and connections needed to grow and succeed.