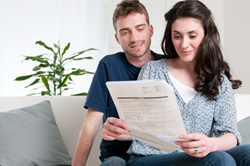 The first step first-time home buyers can take to repair their credit is to request their credit reports.
Chicago, IL (PRWEB) February 20, 2015
When first-time home buyers think they're finally ready to purchase a house, The Federal Savings Bank strongly encourages them to check their credit first. Not only do their credit histories affect their chances for approval, their credit scores could influence the interest rates offered for their mortgages. To ensure lenders, like The Federal Savings Bank, look favorably on mortgage applications, home buyers could follow these three steps to repair their credit:
1. Check their credit scores
The first step first-time home buyers can take to repair their credit is to request their credit reports. The report will break down their payment histories, accounts opened, their credit scores and other information lenders will also see. Borrowers should review their reports and determine whether there are items that are inaccurate or missing. Consumers are able to receive a free copy of their credit reports once every 12 months from each of the three major credit reporting bureaus - Equifax, Experian and TransUnion - according to the U.S. Federal Trade Commission.
2. Contact the credit reporting bureaus and creditors
If consumers find there is something wrong with their credit reports, they should reach out to the credit bureau that generated the report - as well as creditors listed on these accounts. Consumers should contact the credit reporting company either through a written letter or an online form describing what is incorrect about the report and provide evidence along with their disputes.
3. Keep other accounts in good standing
As first-time home buyers wait for a response from the credit reporting companies about their credit report disputes, they should make sure their other accounts remain in good standing - that is, that they have no negative information associated with these credit obligations - by paying bills on time, according to Freddie Mac.
First-time home buyers ready to purchase a home can contact the Federal Savings Bank, a veteran owned bank, to learn more about mortgages.