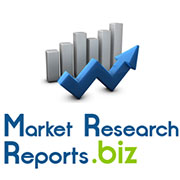 Albany, NY (PRWEB) February 20, 2015
This report covers the current scenario and growth prospects of the industry till 2019. According to the report, the global release liners market will demonstrate a Compound Annual Growth Rate of 3.62% during the forecast period of 2014 to 2019.
View Full Report at http://www.marketresearchreports.biz/analysis/243903
Applications of Release Liners
The global report on release liners provides valuable insights such as market size, production volume of release liners according to vendors, vendor landscape, and leading companies in the market. Release liners find applications in several industries due to their property of acting as a carrier for pressure-sensitive label stock. Applications of release liners include envelopes and packaging, hygiene applications, graphic arts, industrial use, tapes, medical use, and pressure-sensitive label stock.
Download Detail Report With Complete TOC at http://www.marketresearchreports.biz/sample/sample/243903
Release Liners: Label Formats and Substrates
According to the materials used, release liners are segmented into paper release liner, plastic film release liner, and others. The paper release liner segment is divided into clay coated kraft paper, super clandered kraft paper, machine glazed paper, and machine finished kraft paper. The segment plastic film release liner is further categorized into poly coated BO-PET film and poly coated kraft papers. On the basis of label formats, the release liners market is segmented into sleeving, pressure-sensitive labeling, in-mold, and adhesive applied.
Release Liners Market Dynamics
The global industry of release liners will experience a low Compound Annual Growth Rate during the forecast period. The biggest challenge for this industry is the increasing cost of raw material. The growing price of products such as paper and plastic that are used to manufacture release liners tend to inhibit this market growth. However, the upsurge in usage of film-based release liners will fuel the growth of the market. Furthermore, increasing population along with accelerating international trade and demand for quality labeling and packaging will propel the release liners market. Ongoing technological advancements are also anticipated to provide a good growth opportunity for several companies in this market.
Explore all published Reports by same publisher at http://www.marketresearchreports.biz/publisher/73
Key Regions and Prominent Players
The global release liners industry is segmented into four major regions: the Americas, EMEA, and APAC. Currently, North America holds the largest market share in the world, followed by Europe and Asia Pacific. It is expected that North America will continue to dominate the global release liners market throughout the forecast period, with Europe demonstrating marginal growth. However, Asia Pacific will emerge as the region with the highest growth in the coming years.
The top four vendors in the release liners market include Mondi, Loparex Holding, UPM Raflatac, and Saint-Gobain Performance Plastics. Some other established vendors in the market are 3M, Bloomer Plastics, Acucote, CCT Tapes, Huhtamaki Films, MPI Release, Technicote, Rayven, Papertec, and Twin Rivers Paper.
About MarketResearchReports.biz
Marketresearchreports.biz (http://www.marketresearchreports.biz) is the most comprehensive collection of market research reports, supporting clients' market intelligence needs with over 100,000 market research reports, company profiles, data books, and regional market profits in its repository. We also offer consulting support for custom market research needs.
Our document database is updated by the hour, which means that our customers always have access to fresh data spanning over 300 industries. From Fortune 500 companies to SMEs, Marketresearchreports.biz has built a veritable reputation for fulfilling the most exacting market research needs.
Contact:
State Tower
90 State Street,
Suite 700, Albany
NY 12207, United States
Toll Free: 866-997-4948
Email: sales(at)marketresearchreports(dot)biz
Browse Blog at https://businessmonitorinternational.wordpress.com/