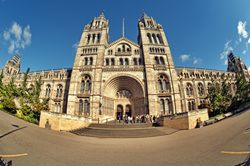 (PRWEB UK) 21 February 2015
York based tour operator, SuperBreak prepare for next month's #MuseumWeek with a whole host of cultural packages for 2015. The campaign, which runs from 23th to 29th March, sees the social network platform Twitter team up with a variety of galleries and museums in a bid to promote cultural breaks in the UK.
SuperBreak is giving customers the chance to get involved with the annual social event by offering a wide range of short break packages with tickets to some of the UK's best museums and exhibitions included. Last year, the firm launched several highly anticipated London cultural packages for 2014 including Bond in Motion now showing at the London Film Museum, and The British Museum's first major exhibit in 30 years, Vikings – Life and Legend.
Bond in Motion ticket and hotel packages continue to be a popular choice with customers looking to take a cultural break in the capital, along with the Museum of London's Sherlock Holmes exhibition which launched in October last year.
New for 2015, SuperBreak recently launched cultural breaks for the Royal Academy of Art's one-off exhibition, Rubens and His Legacy: Van Dyck to Cezanne. Running until the 14th April, with ticket and hotel packages starting from £47 per person, this unprecedented art display offers visitors to the capital the chance to see world-famous works from Rubens, Van Dyck, Picasso and many more.
Another product offering from the short break specialist to make the spotlight in 2015 is Elvis at The O2: The Exhibition of His Life. Regarded as the biggest exhibit of its kind in Europe, this unique event features more than 300 artefacts including guitars, outfits and cars, rarely seen outside of Graceland, Memphis. A 1-night break in a 3-star London Dockland's hotel with entry to Elvis at The O2 included starts from £66 per person.
The focus on London-based cultural breaks this spring will coincide with the birth of the Duchess of Cambridge's second child due this April. SuperBreak's extensive product range extends to a variety of royal packages offering customers the chance to explore historic buildings and palaces such as Buckingham Palace, Kensington Palace and Clarence House around the time of the birth.
The Natural History Museum in London also recently made an announcement regarding the retirement of Dippy, the famous diplodocus skeleton. The popular relic has sat in the museum's grand central hall since 1979 and is set to be replaced by a blue whale skeleton in 2017. The firm expect to see a rise in popularity for cultural breaks in the capital in the lead up to Dippy's retirement as customers look to visit the iconic artefact before it's replaced.
Celebrating some of the Nation's top museums and galleries, next month's #MuseumWeek will raise awareness of the Yorkshire based tour operator's choice of cultural breaks. By offering a variety of great value packages, SuperBreak is providing customers with a great opportunity to experience a myriad of cultural sights and landmarks across the UK and Europe.
Head of Marketing, Jacquie Fisher commented: "Cultural breaks have been a long-standing popular choice with our customers, and our continuous efforts to provide a range of short break packages with inclusive tickets to one-off exhibitions and events has proved to be a great move for us. This year is already setting up to be an exciting year with various events going on around the capital. With our great value packages, customers will be able to experience these exclusive cultural highlights first hand, plus a whole host of other amazing sights and attractions!"
About SuperBreak: With more than five million people visiting SuperBreak.com each year, millions of couples, single travellers, families and friends rely on SuperBreak to book their short break. With 5000 plus hotel partners in both UK and overseas destinations, and great availability and rates for theatre breaks, attraction tickets, events at the O2 arena and flight inclusive breaks, SuperBreak can offer an outstanding depth and breadth of UK and overseas short breaks.
With 30 years of travel experience, SuperBreak has a reputation for providing excellent quality and customer service. Both ATOL and ABTA bonded for peace of mind, SuperBreak is a reliable brand trusted by travel agents and customers.