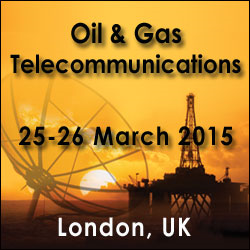 London, UK (PRWEB UK) 23 February 2015
The oil and gas sector faces challenges in some of the most dangerous, harsh and remote environments on earth and a range of crucial communication tools draw and provide information from these platforms and land-based sites.
ABB Group is a global leader in power and automation technologies. Their mission is to improve the efficiency and productivity in the sector while minimizing environmental impact.
SMi is very proud to announce that Gavin Doyle, UK Telecommunications Specialist at ABB has joined the speaker line-up at the highly anticipated 8th annual Oil & Gas Telecommunications conference taking place on 25th - 26th March 2015 in London, UK.
In his speech entitled Key Enabling Telecoms Technologies and their Applications for Oil and Gas Installations, he will provide an introduction to current telecoms, safety and security systems technology in the oil and gas sector. He will also discuss the applications of this current technology to improve safety, security and productivity of installations and vessels. Gavin's unique expertise will shed light on the integration of telecoms and process control systems as well as the future technology trends.
Key Reasons to Attend:
This conference focuses on all aspects of telecommunications from initial exploration through to extraction, transport and processes covering the following topics:

Practical issues facing oil and gas operators
Telecommunication licensing and regulation in the oil and gas space
Next generation communications for the digital oil and gas field
Network vulnerabilities
Partnering to streamline communications operations
Case studies from Saudi Aramco, Technip, Delonex Energy, Fluor and more..
In addition, an interactive half-day pre-conference workshop will take place on the 24th March 2015: Delivering the WAN - A Partnership Approach
Workshop Leader: Bill Green, Global Account Director, Hermes Datacomms
Sponsored by ABB, Straxia, Thuraya and Waterfall Security Solutions
For more information or to register visit http://www.smi-online.co.uk/2015oilandgas-comms10.asp
Alternatively contact James Hitchen on +44 020 7827 6054 or jhitchen(at)smi-online(dot)co(dot)uk