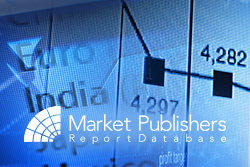 London, UK (PRWEB) February 20, 2015
The Market Publishers Ltd is happy to inform that new market research studies worked out by Infiniti Research have been recently uploaded to its catalogue.
Global Waterjet Machine Market 2015-2019. Producing a smaller amount of heat if compared to other cutting technologies, waterjet machines enjoy demand from a large number of industries, such as defense, aerospace, automotive, food processing industries, to name a few. The need to reduce costs is amid key factors driving the market, while a delay of decisions related to investment activities is one of main market challenges. The market is forecast to demonstrate a CAGR of more than 9% in the upcoming years. A deep analysis of the world waterjet market is available in the study.
Global M2M Services Market 2015-2019. The demand for M2M solutions grows from pole to pole. For instance, the use of M2M has increased significantly in supply chain management. With the market driven by such factors as growing demand from automotive industry players, the market is set to show a CAGR of approximately 24% in the years to come. However, a lack of standardization may pose some challenges to the growth. KT, China Mobile, EE and AT&T are amongst the top vendors of this lucrative marketplace. Unique information o the performance of the world M2M services market is provided in the report.
Global Scar Treatment Market 2015-2019. The growing emphasis on beauty is one of top factors spurring growth of the global scar treatment market. The latter one is forecast to show a 9.1% CAGR in 2014-2019, though its growth may be constrained to a certain extent by risks that are associated with products used for scar treatment. Currently, increased use of silicone based scar treatment products emerged to be the key market trend. Avita Medical, Revitol, Enaltus and Suneva Medical are amid key vendor. The comprehensive report contains a detailed analysis of the worldwide scar treatment market along with a future outlook.
Global Sedimentation and Centrifugation Market 2015-2019. The market for sedimentation and centrifugation products is dominated by such key vendors as GE, Andritz AG, Alfa Laval AB, etc. However, they may be dethroned in future since other prominent vendors (e.g. Pieralisi Group and FLSmidth) make attempts to deepen their footprint in the marketplace. The market growth is primarily driven by such factors as an increase in oil and gas explorations, while high costs of centrifuges undermines the growth. The market is expected to grow at a 5.6% CAGR in the future. The new report includes a close look at the global sedimentation and centrifugation market as well as presents a set of forecasts.
Global Welding Equipment Market 2015-2019. With the welding process being extensively used in many industries (e.g. aerospace, oil and gas, automotive, offshore exploration and construction industries), the market for welding equipment continues growing. The increased demand from emerging countries assists the market growth as well. However, slow adoption of advances technologies in countries of the Asia-Pacific region suppresses the growth. Currently, the automation of welding equipment is amid main market trends. In 2014-2019, the market is likely to demonstrate a 5.3% CAGR. The research study offers an in-depth analysis of the global welding equipment market scenario, examines the market dynamics and presents future projections.
More new cutting-edge research reports by the publisher can be found at Infiniti Research page.